Explains the limitations of creating labels for dangerous goods in ShipStation.
You may ship dangerous goods if the carrier you are using supports that option in ShipStation. Currently, the only US-based carriers that allows the dangerous goods option are DHL eCommerce and FirstMile. If you are shipping with another carrier, the Dangerous Goods shipping option will not be available to select in ShipStation.
If the option for This shipment contains dangerous goods is not present in your Other Shipping Options section, that means your selected carrier does not support this option.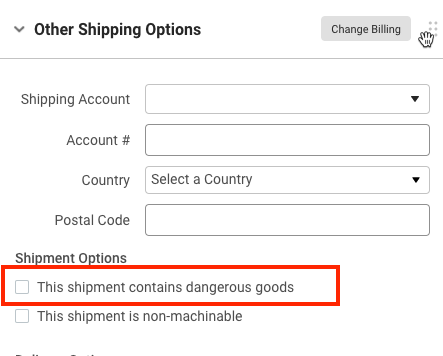 Please check with your carrier on their requirements for shipping any materials that require special labeling. These shipments may need additional forms or labels that must be created outside of ShipStation.
ORM-D Phase-Out
After December 31, 2020, the Department of Transportation is phasing out ORM-D Consumer Commodity marking on packages containing limited quantities of low-risk hazardous materials. Packages must be marked with the Limited Quantity marking in accordance with the Code of Federal Regulations, Title 49, Section 173.156.