ShipStation's Marketplace Add-On lets you aggregate orders from your marketplace account and then delegate those orders to different vendor accounts. This workflow is ideal for sellers who operate marketplaces that connect with multiple vendors to fulfill orders and ship to the customer.
Once you enable the Marketplace Add-On, marketplaces can connect with vendors and delegate orders to them via their ShipStation account.
From this point, the vendor uses their own ShipStation account to fulfill the shipment. They create the shipping label with either their own carrier account or the one your marketplace uses.
The Accounts that are associated with a Marketplace Add-on:
Marketplace Add-On Account: The main ShipStation account that serves as the marketplace.

This account allows you to connect to a vendor's account and delegate orders to vendors.

Vendor Account: The vendor's ShipStation account where they receive requests to fulfill the orders you delegated from your connected marketplace.

This account is responsible for shipping the goods from your marketplace's delegated orders, and it can send shipment confirmation back to that marketplace.
Learn more about ShipStation's Marketplace Add-On functionality and limitations.
This diagram shows how orders flow from a Marketplace account to a vendor ShipStation account: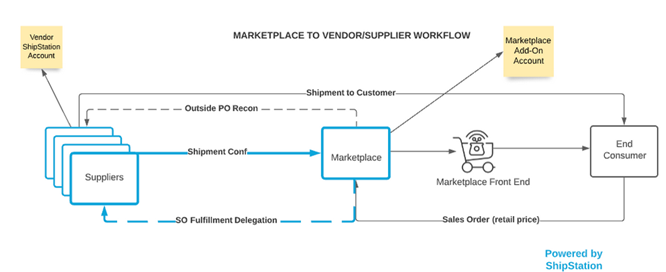 At this time, there is no limit to how many vendor accounts can be connected.
You can include the Marketplace Add-on for $149/mo in addition to the cost of your current ShipStation plan.
Vendors will not pay any additional fees but must have a standard ShipStation account.
The first 1,000 shipments are free. After that, there will be a $0.03 per shipment fee.
Get Started with ShipStation's Marketplace Add-On (Beta)
If you are a marketplace already using ShipStation or you are not currently using ShipStation, but would like to, you can participate in the Marketplace Add-On open beta.
This Marketplace Add-On is only available when using ShipStation's currently layout (not available for ShipStation Legacy) and only for US-based ShipStation accounts.
Fill out ShipStation's Marketplace Add-On form and an associate from our team will contact you to get set up with this plan.
Enable your ShipStation marketplace account with the Marketplace Add-On. Use this ability to delegate orders to ShipStation vendors you connect with.

Invite a ShipStation vendor account to connect to your account with the Marketplace Add-On.

Once the vendor accepts the invitation, that marketplace can delegate orders to the vendor.

On the marketplace account, the orders appear in Awaiting Shipments status until you delegate the orders to the appropriate vendor, at which point they will move to Pending Fulfillment status.

On the vendor account, the orders appear in the Awaiting Shipments status for the store associated with your connected marketplace.

The vendor then uses the normal create-label workflow to create labels for these orders. When the vendor chooses a carrier or service for a shipment, they can use either their own carrier accounts or your marketplace's carrier accounts if you allow the vendor access to the marketplace's carrier accounts.

Once that vendor creates the label, order status information passes back to the marketplace's ShipStation account, and the usual marketplace and customer notifications occur.

Order status information will take a maximum of 1 hour to appear back on the marketplace's ShipStation account after the vendor processes an order.
Vendors will see new columns in their Orders grid once they connect to the marketplace account:
Brand: This column displays the brand Company Name associated with the order from the marketplace. This is the name the marketplace enters in the Company Name field of their Store Settings.

Store: Marketplace information will appear under the existing Store column to help identify which marketplace the orders came from.
The Marketplace add-on allows you to automatically aggregate orders from your marketplace account and delegate them to as many vendors as you would like.
This ability eliminates the need to manually email orders and allows you to focus on faster fulfillment times to customers.
The marketplace account can import orders from the marketplace, sort orders based on dates, assign order tags, and set up automation rules to route orders based on set criteria for your items/vendors.
You will also receive tracking information once your vendor ships the order.
Since this is a new program, accounts that have enabled the Marketplace Add-On feature can also expect more capabilities to come soon!
Upcoming Capabilities:
Automatic split shipments

Sending stock to store
That's a basic summary of ShipStation's new Marketplace Add-On feature. We hope you find this new set of features helpful in managing your marketplace in ShipStation and continuing to grow your client base.