Explains which shipments will appear on a USPS SCAN form and how to modify the shipping cutoff time in ShipStation.
For packages to be included in a USPS SCAN or End of Day form, they must have a ship date that's the same as the form's creation date.
For example, if you have a shipment with a ship date of 3/25/2019, it can only go on a SCAN form that also has a date of 3/25/2019. Additionally, the shipment must not have been on any previously created SCAN forms in ShipStation.
You can ensure that every shipment has the correct ship date by setting your Shipping Cutoff in the label Document Options.
Alternately, when you configure the shipping details for the order, you can set the ship date to another date.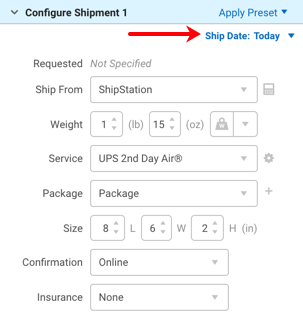 While you cannot change the ship date of a shipment after its label has been created, you can void the incorrectly-dated shipment and then create a new shipment for that order. This may be a less-than-optimal solution for USPS, so we highly recommend that you configure the first two settings so that this third option becomes only a last resort.