Details about using USPS from ShipStation: Requirements, available features, and other notes.
USPS from ShipStation allows you to create domestic and international USPS labels in ShipStation right away, without creating your own separate postage account. With USPS from ShipStation you can immediately take advantage of ShipStation's pre-negotiated USPS rates, up to 89% off USPS retail rates.
Alerts, Disruptions, and Suspensions to Service
Updated May 1, 2023: The USPS provides updated service alerts on their website for any situation affecting USPS parcel delivery.
If shipping to a country experiencing a USPS service disruption, we recommend shipping packages via UPS or GlobalPost.
Unless otherwise noted, service suspensions to a particular country do not affect delivery of military and diplomatic mail.
Activate ShipStation Carriers by adding your payment method.

You'll be prompted to enter your payment method the first time you attempt to create a label with any ShipStation Carrier, or you can add in advance in either your Carrier settings or Payments & Subscription settings.

Add funds to your ShipStation Balance.

All ShipStation Carrier labels are purchased using the funds in your ShipStation Balance. The first time you add your payment method, you'll be prompted to add funds so you can begin purchasing labels right away.
Activating ShipStation Carriers requires adding your label payment method and agreeing to the carriers' Terms of Service. Once activated, you'll have access to all of the carriers available for your account's country.
To activate ShipStation Carriers:
Click the Get Started button.

Follow the on-screen instructions to enter your billing details, agree to the terms and conditions, and finish the setup.
Once completed, you can add funds to your ShipStation Balance and create labels with ShipStation Carriers.
Enable Auto-Funding For a Seamless Experience
We recommend enabling auto-funding to ensure your balance always has the funds for your label purchase needs.
ShipStation will sometimes add new carriers to the ShipStation Carriers roster! If you have already activated ShipStation Carriers and would like to start using the new carrier's services, you just need to update your ShipStation Carriers settings and agree to the new carrier's Terms of Service.
Go to Settings > Shipping > Carriers and click the Update button.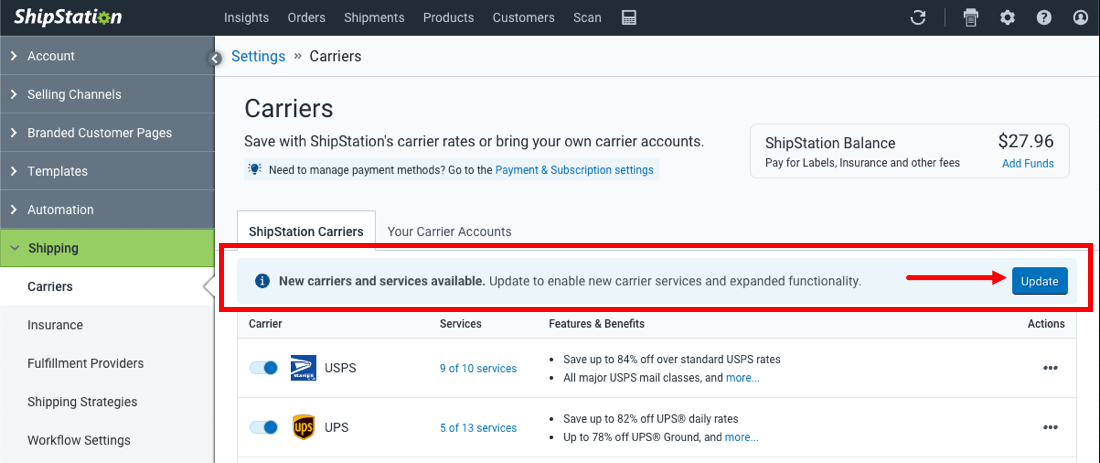 Agree to the new carrier's terms and you're done! You can immediately start creating labels with the new carrier.
USPS from ShipStation supports the following standard features:
USPS from ShipStation supports the following additional features:
Feature

Description

Scheduled Pickups

After creating USPS from ShipStation labels, you can schedule a pickup for the next day directly in ShipStation.

Dangerous Goods

When you create USPS shipping labels, you can indicate that the package contains dangerous goods.

This option is available under Other Shipping Options in the Order Details, if your selected service supports it.

Use Automation Rules to apply this setting automatically when an order imports.

GlobalPost services available by default

USPS from ShipStation automatically includes access to GlobalPost Economy and GlobalPost Standard International services. Use GlobalPost services to save on international shipping rates and take the hassle out of international shipping.

If you ship more than 5 international packages a day (on average), you may also qualify for GlobalPost SmartSaver with USPS from ShipStation.

Global Advantage Program for First Class and Priority Services

When selecting USPS First-Class International, Priority International, or Priority Express International services for USPS from ShipStation, you will automatically receive a Global Advantage Program label.

GAP services provide additional savings over the USPS international rates, as well as automated customs submission, lost/damage protection, proof of delivery, and many other benefits. Review our Global Advantage Program help article for more details.
You can request a free USPS pickup for the next shipping day (Monday through Saturday) directly in ShipStation for any USPS shipment you've created.
Saturday Pickup
Certain USPS Post Office locations do not support Saturday pickup, so a pickup request placed on Friday would be scheduled for Monday with these locations. Please contact your local Post Office to confirm their pickup schedule.
USPS from ShipStation includes the following options under the Actions menu.
View Reports

Carrier Settings

Update Password

Refresh Services

Manage Services
See the description for each option in the table below:
Actions Menu Options

Description

View Reports

View your ShipStation Carriers-related transactions. This option will open a new window to view the account balance, credits, deductions, and expenses. You can filter by date and create a printable report if needed.

Carrier Settings

Opens a new browser window to show account and profile settings. Generally, you do not need to make any changes to your account here. It can, and should, all be done within ShipStation.

Update Password

If you activated ShipStation Carriers before November 2023 and connected it to an existing Stamps.com account, use this option if you have updated your Stamps.com account password. This will allow ShipStation can continue to access the Stamps.com account to purchase labels.

IMPORTANT: If you did not use an existing Stamps.com account when you first set up ShipStation Carriers, then you will not have a password to update and will not need to use this feature!

Refresh Services

Refreshes the list of available services for each ShipStation carrier. You may need to do this if a carrier makes additional services available to ShipStation, but this does not happen often.

Manage Services

Opens the Manage Services pop-up so you can enable and disable specific services for that carrier. This is the same pop-up you would see if you clicked the # of # Services link next to the carrier name.
Post-shipping rate adjustments may occur with USPS shipments if your package details (like weight and dimensions) do not match the details entered to create your label.

All USPS shipments are subject to the USPS Automatic Package Verification System (APV). Any adjustment applied through APV will be either added or deducted automatically to/from your ShipStation Balance. USPS reserves the right to apply APV adjustments at any time.

To receive a refund for unused postage, you must void the label within 28 days. The cost of the label will be credited back to your ShipStation Balance. Most funds are credited back the same day but can take up to 21 business days to process.

To report a lost USPS shipment created via ShipStation, you must file a claim with USPS.

USPS does not support Signature or Adult Signature confirmation for shipments to international addresses.

USPS SCAN forms must be created before 9pm local time.

Label Messages are not available for international shipments or domestic First-Class Mail shipments using the Letter package type.

USPS labels created through ShipStation will not show postage amounts.

USPS labels will no longer display the transit time for Priority Mail shipments in the label banner.

If you have questions about your account or encounter any billing issues, please contact the ShipStation Support team.
Here are some common issues, potential causes, and troubleshooting tips.
Issue

How to Troubleshoot or Resolve

When I try to void a label, I receive the error message 'Authentication Failed'.

If you void a label and receive this error message, it could be that you activated ShipStation Carriers by connecting it to an existing Stamps.com account and have updated that account password but haven't updated the password in ShipStation.

To update your password in ShipStation, go to Settings > Shipping > Carriers. Then click the Action Menu and select Reauthorize.

First Class Mail International (FCMI) shipments' tracking numbers not sent to marketplaces or customers.

What it means: The tracking number provided for FCMI shipments is not always fully trackable and will often not provide any additional tracking details beyond the shipment leaving the country. Since these tracking numbers do not always provide full delivery information, ShipStation considers them to be "non-trackable" and will not include them in notifications by default.

What to do: If you want ShipStation to include FCMI tracking numbers in notifications, go to Settings > Shipping > International Settings and enable the option Send non-trackable Tracking Number to Marketplaces at the bottom of the page.

Despite the wording of the setting, it applies to both marketplace and customer notifications.

My Priority Mail Express shipment arrived late, how do I get a refund for the late delivery?

Contact the ShipStation Support team with the tracking number(s) and created date(s) for the shipment(s). The ShipStation Support team will evaluate the claim and respond within 24 hours.