Moving into international markets is a big step for a growing business. It can seem intimidating, confusing, and perhaps too expensive to start. This guide will go through what you need to know about shipping beyond the borders in simple terms, the forms and taxes expected, and how to properly use ShipStation for your international shipments.
Let's start by going over the major difference between domestic and international shipping.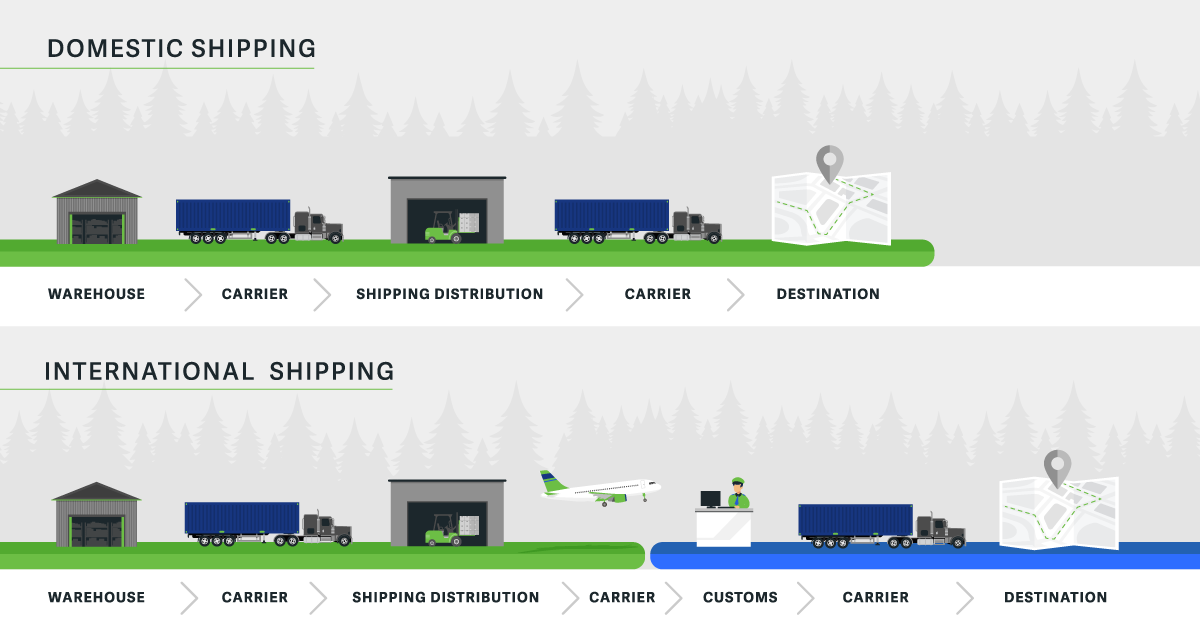 Customs
The very basic purpose of customs is to screen incoming products and ensure they comply with the laws of the land so they can be taxed appropriately. How do they do this without opening your packages? Customs forms! (Also known as: Commercial Invoices, Declarations, etc.) These forms declare what the package contains, how much it costs, where it came from, and where it should go.
There are several considerations to make before picking a carrier or filling out forms.
Harmonization codes (also known as Tariff Codes) are internationally recognized codes that classify the product for tax purposes.
Within ShipStation, you can add the Harmonization Code to your product records. This helps automate the process of creating customs forms with ShipStation. See ShipStation's International Settings for detailed instructions on adding Harmonization Codes to your product records.
Harmonization Code FAQ
Q: Do I need the HS code or will the product description suffice?
A: Most destination countries use the Harmonization Code system (and, as of March 2023, all EU countries require it) so we recommend you always include HS codes. It is best practice to include both the HS code and an accurate description of each item in the shipment.
Q: Which HS code do I pick?
A: The codes range from general to specific when classifying goods. Ideally, you want to be as specific as possible to avoid delays or potential seizure of your goods.
You can look up your product codes on the Harmonized Tariff Schedule page or by using the GlobalPost HS Code lookup tool (this tool limits you to 5 queries in a 24-hour period, so be sure to keep a record of your HS Codes to refer to later). If you need further assistance classifying your product, contact the US International Trade Commission.
Shipping internationally does not mean you need to ship everywhere in the world right away. Sometimes, it makes more sense to limit shipping to countries where you know there is a demand for your product.
It's critical to know the following details:
Does the country allow imports from your home country?

Is your product legal to import to that country?

Does the country require a tax or duty on the product?

If so, what is the tax rate?
Pick a Country FAQ
Q: Where can I learn about import limitations by country?
There are a few official resources to check with:
Q: What taxes are levied upon my goods?
The two main taxes you might have to pay: Duties and Value Added Tax (VAT).
However, it will depend on the destination country whether or not these taxes apply to your shipment. Some countries only have duty taxes or VAT. In some cases, you may not have to pay either!
Q: What are duties?
Duties or tariffs are a tax retailers must pay when selling products internationally. Like VAT, each country uses a unique percentage to calculate duties. However, instead of using a single, set percentage, duties are calculated based on the value and quantity of the items being imported plus the cost of shipping and any insurance.
Q: Who pays these fees?
Well, duties can be paid by the merchant (you) or your customer. The two types of duties are: delivery duty paid (DDP) and delivery duty unpaid (DDU). With DDP, the merchant (you) is responsible for all applicable duties and fees. The total is paid upfront by the carrier, and the merchant receives a bill.
With DDU, the recipient (your customer) must pay. If you go with DDU, make sure it's extremely, exceptionally, extraordinarily clear on your checkout page!
Arguably, one of the more challenging things to decide is which carrier you want to use for international shipments. Each carrier has its own advantages for international shipments. The major things to consider beyond price are:
Availability in the destination country

Ability to export your particular product

Time it takes to deliver

Features for International shipments such as insurance or express delivery

Whether the whole process is handled by the carrier or if it changes hands after customs
To help with this research, here is a list of the carriers within ShipStation that offer International services:
Carrier FAQ
Q: What is a consolidator service?
A: Consolidation will put multiple shipments into one large cargo shipment and ship everything in a larger container. This is a good solution if you have a high volume of international orders. ShipStation includes a selection of consolidation providers for Platinum plans or higher.
ShipStation's goal is to make the process for international shipping as seamless as it is for domestic shipping.
An international order will have custom declarations in the order details. It will be filled in with all your items' Harmonization codes, weights, and dimensions (adding international shipping details to your product records will ensure these details are filled in automatically).
Carriers have two primary methods of handling customs: Electronic Submission or Printed hard copy.
Carriers that support electronic customs will send all custom information to the customs office for you. The label will have an icon to denote that customs information was sent. There is generally no further action necessary on your part.
Carriers that do not have electronic customs require you to print out custom forms and include them with the shipment. You can print your customs forms from ShipStation after creating the label.
Customs Forms Vary by Carrier
Some carriers, like USPS, print customs directly onto the label, so there is no need to print an additional form. Visit our Carrier Integration articles to learn about how carriers handle customs.
Q: Where can I find a blank customs form to fill out myself?
A: You can usually find the appropriate forms on the carrier website.
Q: What is a commercial invoice? Is that the same as a customs form?
A: A commercial invoice is a customs document used by private carriers (like UPS or FedEx) and includes all the information necessary to get through customs.
Q: Do I need to include other forms?
A: This will depend on the content and destination of your shipment. Dangerous goods, perishable goods, and high-value goods can require additional forms. Some of these forms are available in ShipStation (such as the UPS High-value goods report). Others, like the USMCA form, are not and must be downloaded and filled out separately.
There are many little details about international shipping that will be unique to your business. This guide covers the basics but you may need to look into the following topics:
ShipStation has several resources for handling international shipping.
If you need help with your international shipping process, visit our Support Community for advice from peers. For assistance with setting things up in ShipStation, contact our support team.