Details about using SEKO LTL from ShipStation: Requirements, available features, and other notes.
SEKO LTL is ShipStation's first LTL (Less than Truckload) carrier.SEKO LTL from ShipStation is automatically included with your ShipStation account. SEKO LTL from ShipStation gives you access to four unique shipping services to help you to fulfill your LTL shipping needs.
Looking for SEKO Logistics?
This article refers to SEKO LTL services included with ShipStation Carriers. See SEKO Logistics if you are looking for details about the international carrier integration.
Activate ShipStation Carriers by adding your payment method.

You'll be prompted to enter your payment method the first time you attempt to create a label with any ShipStation Carrier, or you can add in advance in either your Carrier settings or Payments & Subscription settings.

Add funds to your ShipStation Balance.

All ShipStation Carrier labels are purchased using the funds in your ShipStation Balance. The first time you add your payment method, you'll be prompted to add funds so you can begin purchasing labels right away.

Weight must be a whole number. SEKO does not support decimal values so ShipStation will round weight up to the nearest integer. For example, 10.2 lbs will be rounded to 11 lbs.
Activating ShipStation Carriers requires adding your label payment method and agreeing to the carriers' Terms of Service. Once activated, you'll have access to all of the carriers available for your account's country.
To activate ShipStation Carriers:
Click the Get Started button.

Follow the on-screen instructions to enter your billing details, agree to the terms and conditions, and finish the setup.
Once completed, you can add funds to your ShipStation Balance and create labels with ShipStation Carriers.
Enable Auto-Funding For a Seamless Experience
We recommend enabling auto-funding to ensure your balance always has the funds for your label purchase needs.
ShipStation will sometimes add new carriers to the ShipStation Carriers roster! If you have already activated ShipStation Carriers and would like to start using the new carrier's services, you just need to update your ShipStation Carriers settings and agree to the new carrier's Terms of Service.
Go to Settings > Shipping > Carriers and click the Update button.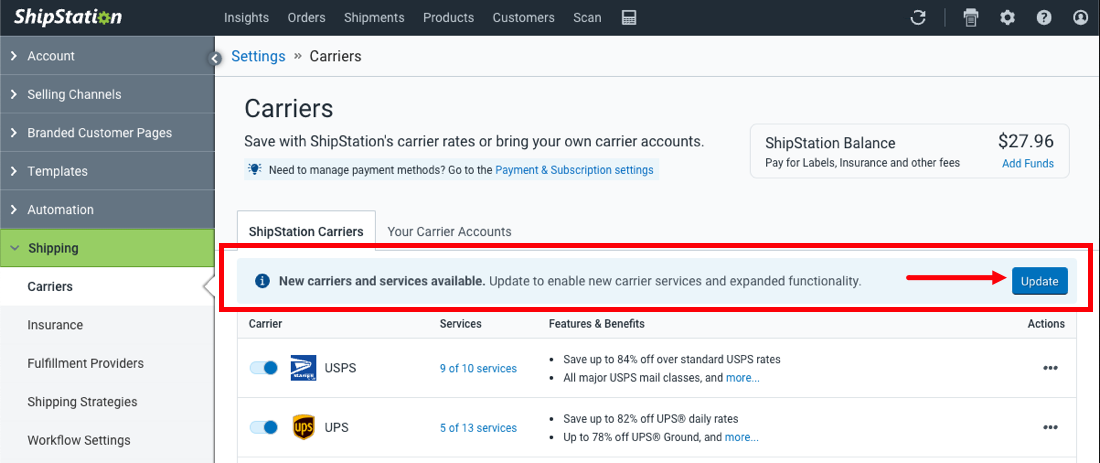 Agree to the new carrier's terms and you're done! You can immediately start creating labels with the new carrier.
SEKO LTL from ShipStation supports the following standard features:
SEKO LTL provides 4 services through ShipStation. Each service includes specific add-ons and any surcharges are built into the rates.
Service

Bundled Add-ons

Standard

Appointed delivery window

Outside delivery to the threshold or main entrance of the residence/business (first dry area ground level)

Threshold

Appointed delivery window

Inside delivery over the threshold or main entrance of the residence/business

Signature required

Room of Choice

Appointed delivery window

Inside delivery to the location or room of choice

Signature required

White Glove

Appointed delivery window

Inside delivery to the location or room of choice

Unpack & debris removal

Signature required
Package Types
The only package type available in ShipStation for any LTL service type is Container. This is a blanket term for the type of packaging that may be used. The product can and will often be on a pallet. The most important thing to remember is to always add dimensions and weight.
SEKO LTL from ShipStation allows for the following additional features:
Feature

Description

Labels charged to balance at time of label creation

Shipment fees will be deducted from your ShipStation Balance as soon as you create the label.

Void labels for a refund

SEKO LTL labels can only be voided within 24 hours of label creation.

Once you void the label through ShipStation, our support team will contact SEKO on your behalf to verify that the label is eligible for a refund. If the refund is approved, we will credit your ShipStation balance Balance.
ShipStation manages all insurance claims for shipments sent with SEKO LTL from ShipStation. Do not contact SEKO LTL to file a claim.
To file a claim for a lost or damaged shipment:
Notes about SEKO LTL Claims
Claims will only be accepted within 60 days of the scheduled delivery date.

If a claim is filed for a damaged shipment, SEKO will not automatically return the shipment to the sender.

Per SEKO's terms and conditions, SEKO may not pay claims for damaged goods that are returned to the sender. If you need your damaged goods returned to you, please contact our support team for assistance.
"Failure to Service" message

What it means: This is the message SEKO sends if a pickup is missed or not arranged. Example: The shipment was picked up on 10/26 and the consignee was not contacted to arrange delivery until around November 19th. By that time, the consignee could not accept delivery and they requested to cancel because of the delay. This is a service failure that led to a cancellation; therefore, the shipping charges (outbound/return) are being claimed.

What to do: Report this message to your local SEKO pickup who can then provide insight and next steps for your service levels and begin the claims process.

SEKO LTL only recognizes the short 5-digit version of a zip code.

No same-day pickup: ShipStation automatically sets the ship date as the next day and calculates shipping time for 5 business days from that ship date.

Pickups must be scheduled through SEKO directly. You can contact SEKO to schedule the pickup by calling 866-268-5263.

SEKO LTL delivery times are estimated, as they do not have a service guarantee. Delayed shipments are not eligible for refunds.

Neither Shipsurance nor carrier insurance is currently supported with SEKO LTL in ShipStation.

If you added Shipsurance to a shipment and no label was created, simply void the label (this will refund the label fee to your balance) and remove Shipsurance from the shipment. Then, create the label again.