ShipStation's Third-Party Logistics (3PL) Provider Bundle enables 3PLs to manage their client's fulfillment in a fraction of the time and cost. Clients are ShipStation merchants who use 3PLs to fulfill and ship their products. With this Provider Bundle, clients can connect and delegate orders to their 3PLs from their ShipStation account. The 3PL uses their own ShipStation account to fulfill the shipment, creating the shipping label with either their own or their client's carrier account. Learn more about the ShipStation 3PL Provider Bundle functionality and limitations.
The following diagram shows the flow of orders from clients to a 3PL ShipStation account: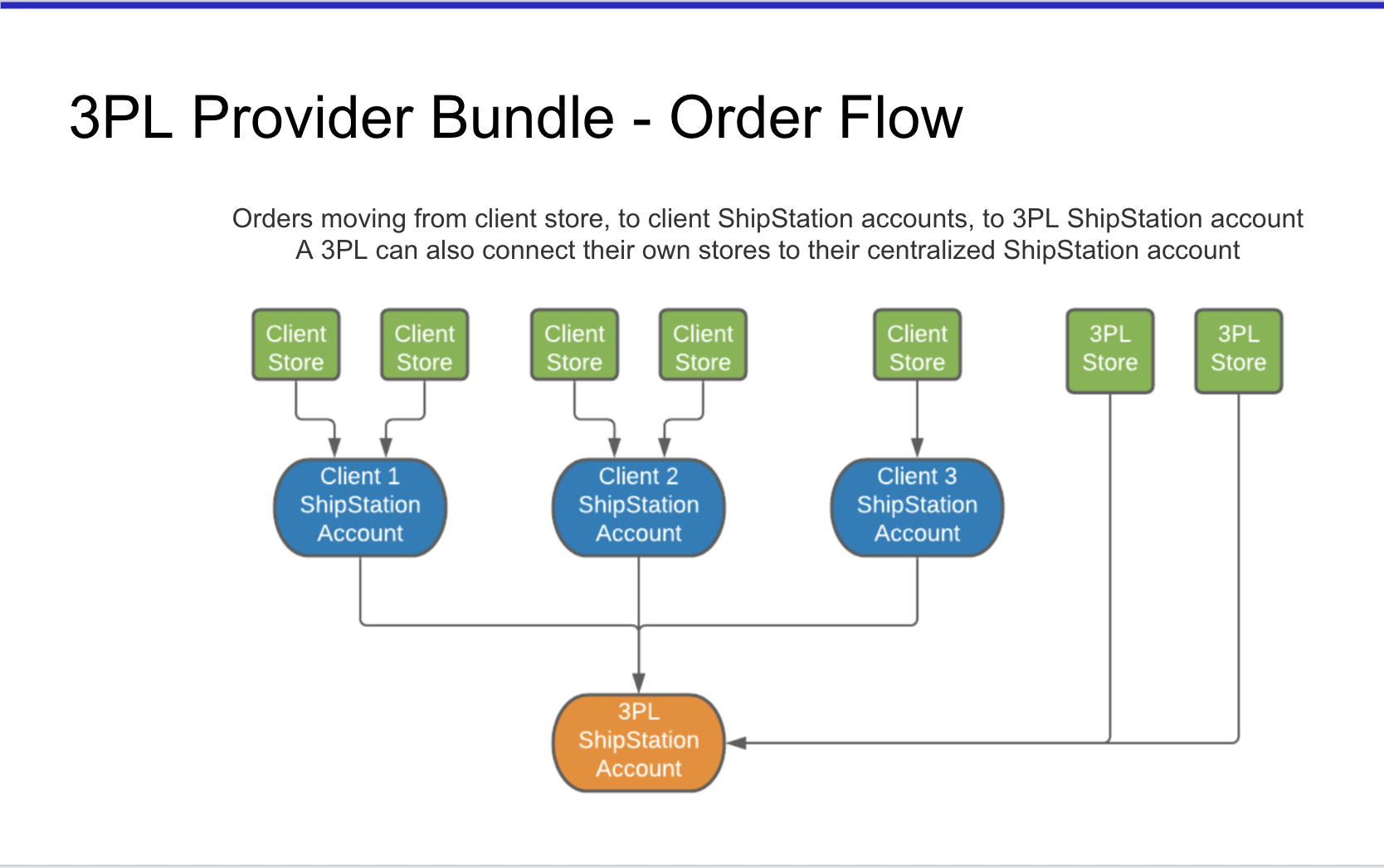 At this time, there is no limit to how many client accounts a 3PL can connect to.
To add the 3PL Provider Bundle to your subscription, follow these steps.
An account is enabled with the 3PL Provider Bundle and an invite is sent to a ShipStation merchant to send its orders to that account.

Once the merchant accepts the invitation, the merchant delegates orders to the 3PL.

On the 3PL account side, the orders appear in the Awaiting Shipments grid for the store the 3PL set up for that client.

The 3PL then creates labels for these orders using the normal create-label workflow. When the 3PL chooses a carrier or service for a shipment, they can use either their own carrier accounts or their client's carrier accounts - depending on the agreement with the client.

Once the label is created, order status information gets passed back to the client's ShipStation account and the usual marketplace and customer notifications occur.

Once a 3PL processes an order, it will take a maximum of 1 hour to appear back on the client's ShipStation account
Rather than use a separate account for each client, 3PL providers will now be able to manage multiple clients under a single account with a single login—with no need to log in to a client's account.
Orders will now display the client's name in the Store field and the newly added Client field on the ShipStation Orders page. The 3PL provider can sort orders based on these fields, view any notes added to the clients order and set up automation rules based on the Store column. Each order can use the client's carrier accounts to purchase labels.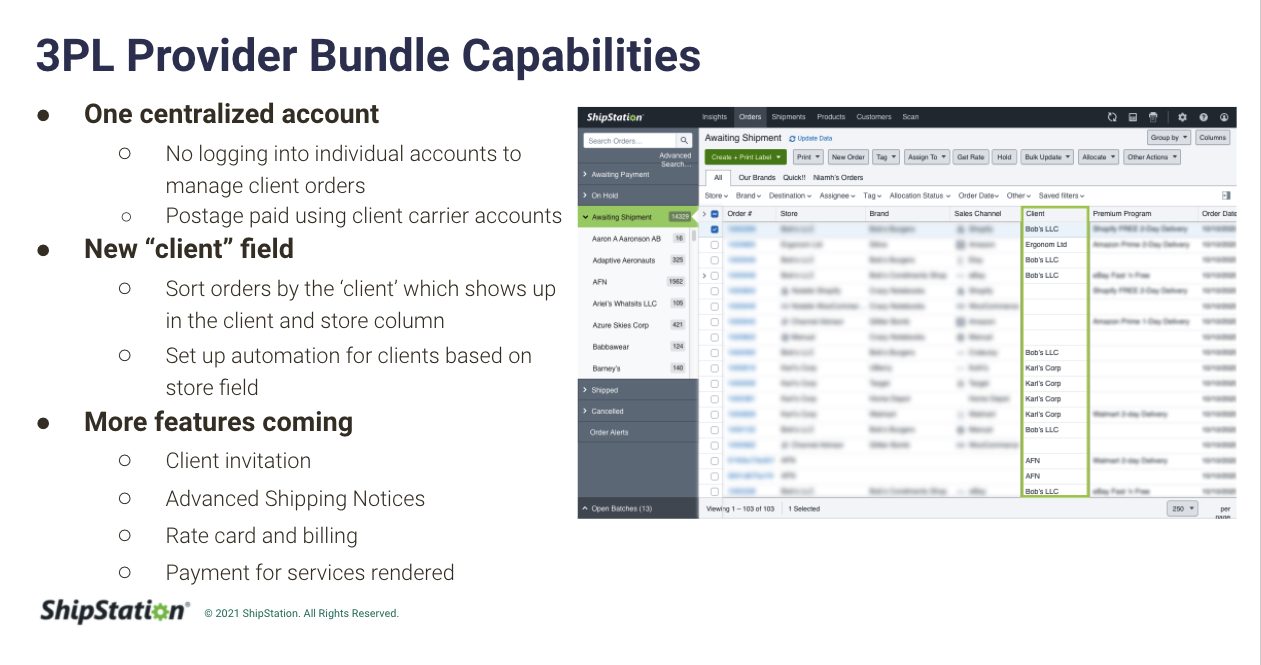 Since this is a new program, 3PL providers can also expect more capabilities to come soon—exclusive to this account type.
Upcoming capabilities:
Advanced Shipping Notices, which allow clients to prepare an inbound inventory shipment within their ShipStation account and notify you when it ships

Ability for clients to see inventory quantities at their 3PL

Ability for 3PL providers to insert a rate card and automatically calculate a monthly bill for each client

Ability for clients to be able to pay a 3PL provider for services rendered directly from their ShipStation account

Plus more features and automation functionalities to come!
The monthly 3PL subscription cost for you will be $50 in addition to your current ShipStation plan. There will be a 3-cent-per-shipment fee after your first 1,000 orders. Your clients will not pay any additional costs.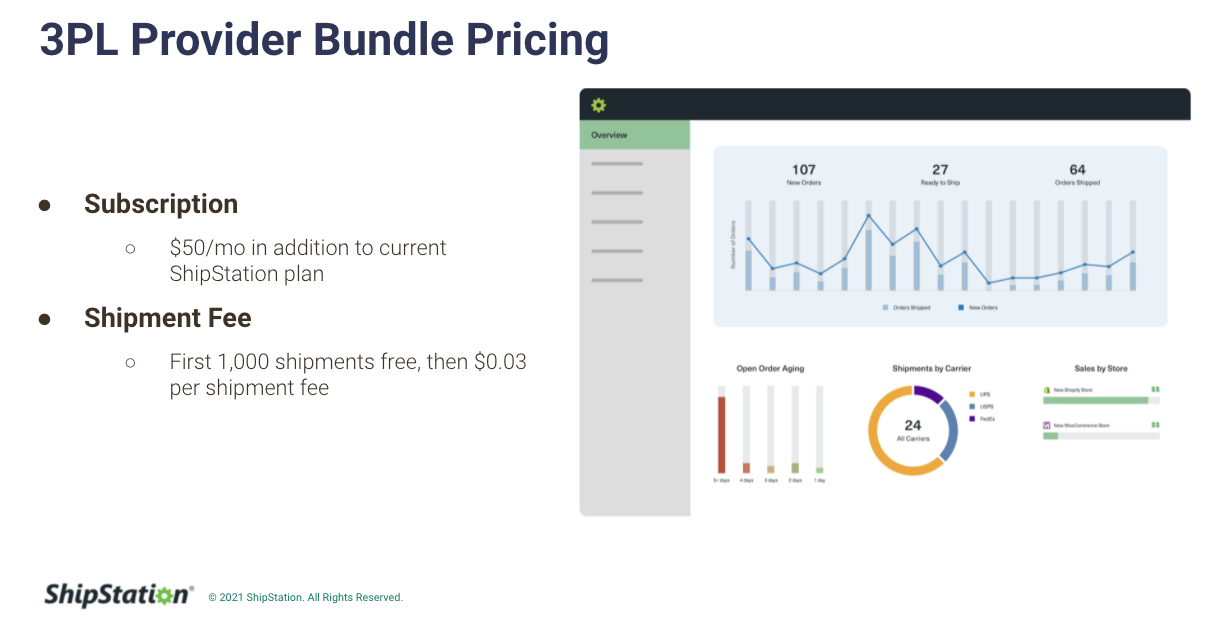 That's a basic summary of ShipStation's new 3PL Provider Bundle. We hope you find this new set of features helpful in managing multiple clients in ShipStation and continuing to grow your client base.
3PLs will see new columns in their Orders grid once the 3PL Provider Bundle has been enabled.
Brand: This column displays the brand Company Name associated with the order from the client. This is the name the client enters in the Company Name field of their Store Settings.

Store: Client information will appear under the existing Store column. This helps to identify where the orders came from.