Details about using GlobalPost SmartSaver: Requirements, methods, creating container labels, and service features.
GlobalPost SmartSaver allows you to realize even more savings by bundling all of your individual GlobalPost packages into a larger container, which you then send to the GlobalPost sorting facility. When the GlobalPost sorting facility receives the shipment, they'll sort the individual shipments by country and then send them on their way to the final destination.
Your individual SmartSaver shipments can use the following services:
GlobalPost SmartSaver Economy Intl: Door-to-country tracking, no default loss/damage coverage, $400 max value of goods.

GlobalPost SmartSaver Standard Intl: Door-to-door tracking, $100 default loss/damage coverage, up to $2500 max value of goods (exact amount differs by country).

USPS Global Advantage Program (GAP) services - First Class Intl, Priority Intl, and Priority Express Intl

Once SmartSaver is enabled, the USPS GAP services for the enabled account will automatically be SmartSaver labels. You don't need to choose a specific SmartSaver branded service.
GlobalPost SmartSaver ships to the same 200+ countries available to GlobalPost single-piece shipments.
*GlobalPost does NOT ship to the following countries: Cuba, Iran, North Korea, Syria, Sudan
Accounts that ship more than 5 packages per day (on average) with GlobalPost are eligible to apply for GlobalPost SmartSaver.

To apply for SmartSaver, call 1-888-899-1255 to speak to a GlobalPost team member or fill in the online Contact Us form to be contacted by the sales team. If filling in the form, include "SmartSaver Inquiry" in the Subject field, then choose General Questions for the Inquiry Type and ShipStation as your Shipping Platform.

SmartSaver can be enabled on the stand-alone Stamps.com account you've connected to ShipStation or for USPS from ShipStation (if you have activated ShipStation Carriers in your account).

SmartSaver shipments must be consolidated into a container for shipping.

Large Envelopes/Flats have a max weight of 17.6oz and Packages/Thick Envelopes have a max weight of 70oz. See the GlobalPost SmartSaver Package Reference for weight and dimension specifications.
SmartSaver offers three methods for consolidating and shipping. Each method differs slightly, so you'll partner with a GlobalPost representative to determine the right solution for your business.
SmartSaver Pickup™ – GlobalPost will pick up your consolidated shipments from your warehouse and transport them to the closest processing facility the same day.

SmartSaver Bundle™ – Consolidate your individual shipments into one or more large containers and ship them to the GlobalPost processing facility with a container shipping label, provided at no additional cost.

SmartSaver Drop-off – Use a carrier account of your choice to ship your consolidated shipments to the GlobalPost processing facility. This option offers the deepest discounts!
The GlobalPost team will guide you through the exact process you'll use - specific to your chosen method - for creating individual shipment labels, creating container labels, and getting your shipments to the GlobalPost processing facility.
With your account now SmartSaver enabled, you'll first create your individual shipment labels (the inner labels) using SmartSaver services for each package. If using the SmartSaver Bundle method, you'll then create the container label at no additional cost.
If using the Pickup or Dropoff method, follow the instructions provided to you by your SmartSaver account representative for transporting the individual shipments to GlobalPost.
For your individual SmartSaver packages, first create the inner label:
Select a SmartSaver-eligible service from the Service menu.

SmartSaver-Eligible services:

GlobalPost SmartSaver Economy Intl

GlobalPost SmartSaver Standard Intl

Or, the USPS GAP services - First Class, Priority, and Priority Express Intl (please note: if you have opted out of GAP services on your Stamps.com account, these USPS services will not be GAP SmartSaver labels)

Enter your shipment details as you normally would: weight, dimensions, insurance, and customs declarations. The rate will appear as it does with any other shipment.

Create & Print your label.

The resulting label will look slightly different than your usual labels. This is what we call the Inner Label.

Packages with the inner label cannot be shipped outside of their containers! These shipments must be consolidated into the container, which will have a container-specific label.

Apply the inner label to its package.
If you are using the SmartSaver Bundle method and have purchased all the inner labels you need, you'll then create your container label.
Go to the Shipments tab and choose to End of Day > Container Shipments.

Select the Ship From Location the container will ship from. Then, select the shipments you want to add to the container.

Set the number of containers you need, then click Create & Print Label.

The maximum weight for a container is 70lbs. ShipStation will alert you if the weight per container exceeds the limit.
You'll apply the resulting label(s) to the containers used to consolidate the individual shipments.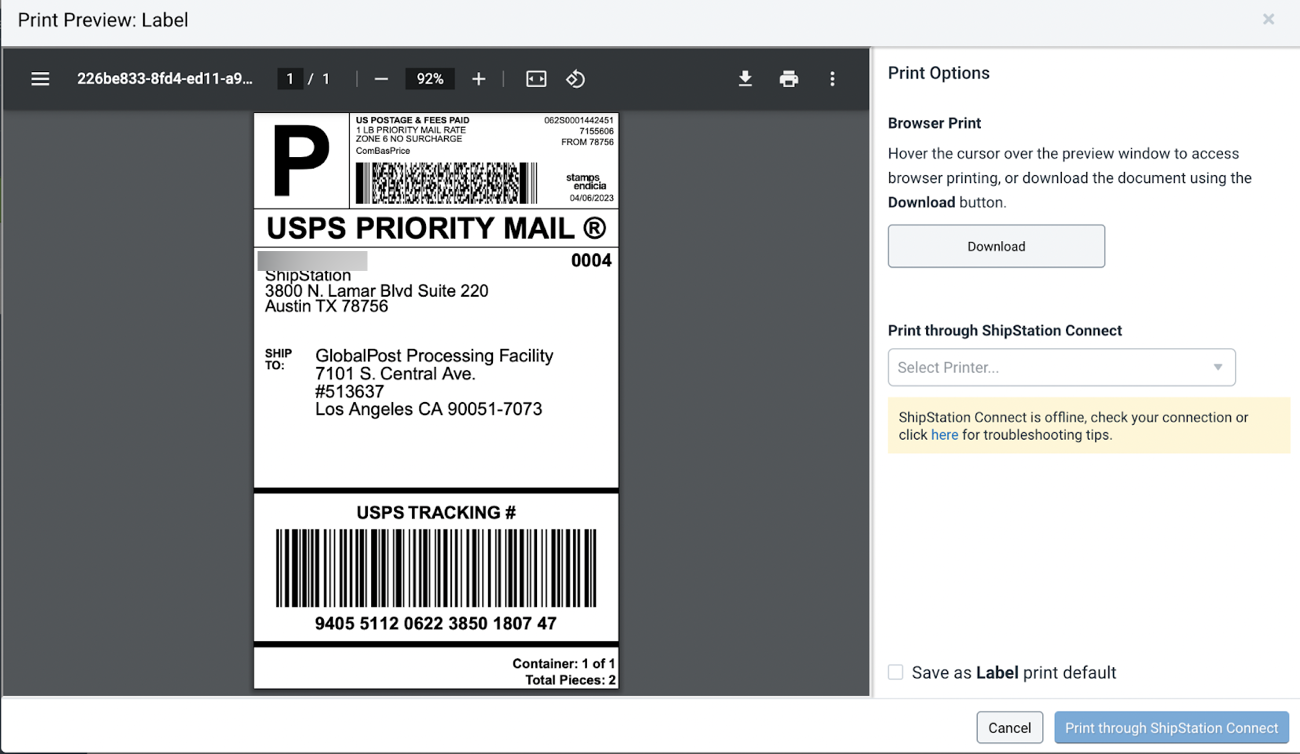 Once you're ready, put all your shipments with inner labels into your container. Then, apply the container label to the outer container.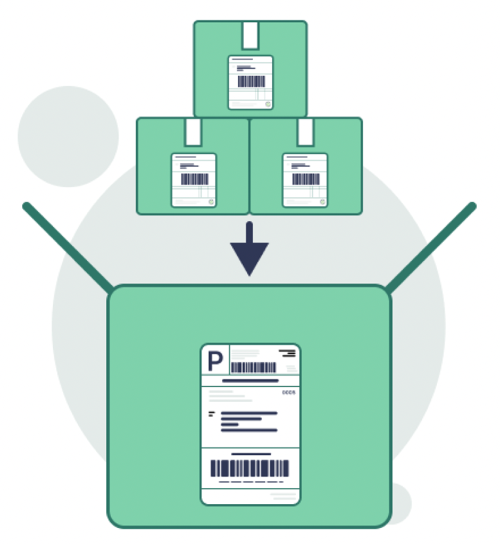 You can use most types of plain shipping boxes or bags as your container, including the free standard USPS Priority boxes (but not Flat Rate or Regional Rate boxes). Your GlobalPost account representative can provide you with details about the container boxes that will best suit your specific shipping needs.
View and manage all of your container labels in the Container Labels tab.

Click the tracking number to track the container and all its included shipments on the GlobalPost tracking page.

If needed, you can also reprint your container labels here.
That's it! You're now ready to start saving big on international shipments.
Keep the following weight and dimension standards in mind for the individual SmartSaver shipments.
Available Package Types

Max Weight

Min Dimension

Max Dimension

Large Envelope or Flat

17.6 oz

11.5" x 6.125" x 0.25"

15" x 12" x 0.75"

Package, Thick Envelope

70 oz

6" x 4" x 0.75"

Length + Width + Height cannot exceed 36"

Max Length (the longest side) is 24"

Rolls

70 oz

Min Length (the longest side) is 4"

Minimum Length + 2x Diameter is 6-3/4"

Max Length (the longest side) is 36"

Max Length + 2x Diameter cannot exceed 42"
GlobalPost also provides some useful tools to assist in your international shipping: The HS Classification Tool (or Harmonization Code Lookup) and the Duties & Taxes Calculator.
The Harmonization Code Lookup tool helps you find the appropriate harmonization codes for your customs declarations. We recommend always including the correct harmonization codes on your customs declarations to ensure the destination country's customs authority can process your shipment in the quickest way possible.
To use the lookup tool, enter a simple item description in the search field and click Find Code. You'll then be prompted to drill down on the details of your item with a series of multiple-choice questions until the right code has been identified.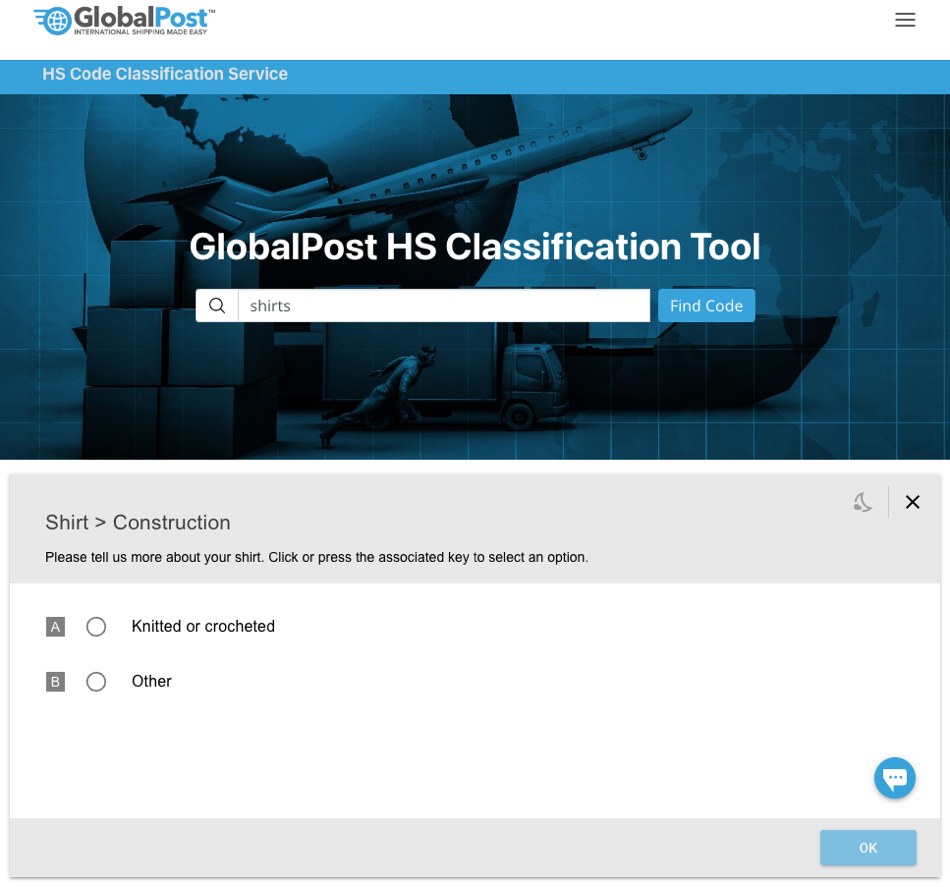 You can then enter the code into the Harmonization Code field for the shipment in ShipStation.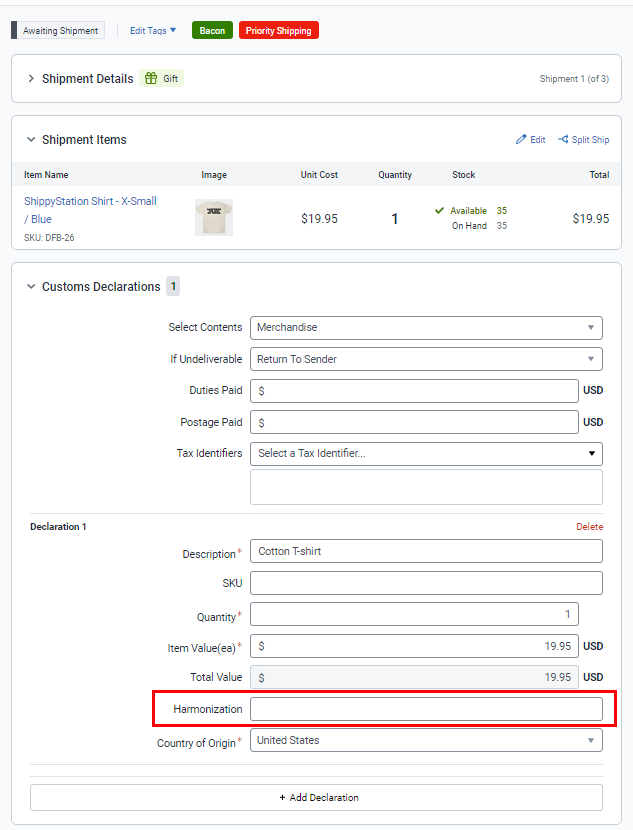 If you have a product catalog in ShipStation, you can enter the product's harmonization code into the product details and ShipStation will automatically add it to the customs declaration for every order containing that product.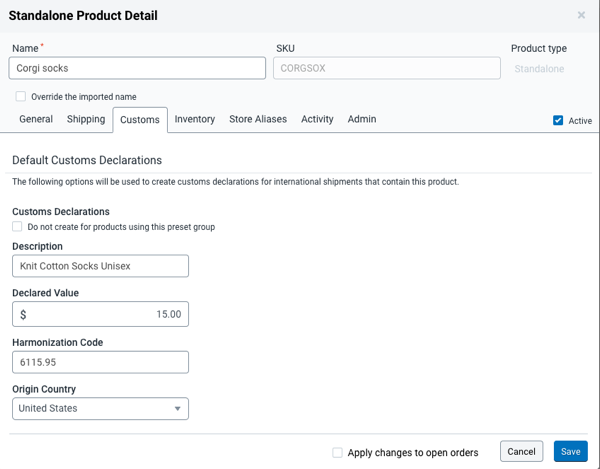 The Duties & Taxes Calculator can help you estimate how much duties and taxes can be expected when shipping certain types of goods (based on your HS code) to certain countries. This can be very helpful when using GlobalPost Plus, which is a Delivered Duties Paid (DDP) service available when shipping GlobalPost via a Stamps.com account. Know in advance how much you'll be charged for duties & taxes so you can budget appropriately.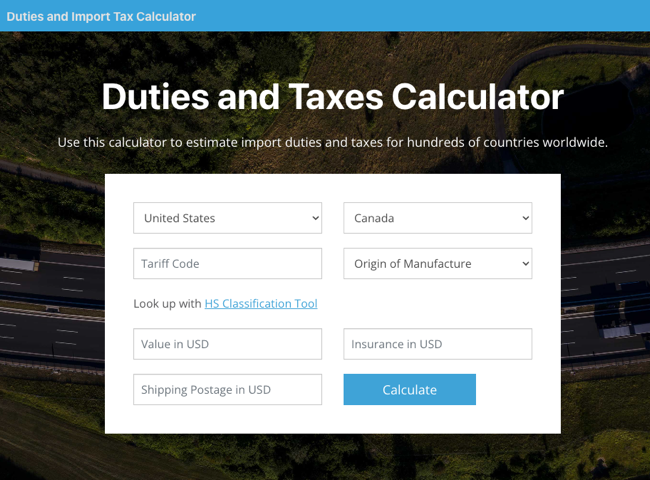 Should any of your GlobalPost Standard or Plus shipments become lost or damaged in transit, you can file a claim within 90 days of the shipment date.
GlobalPost Standard shipments include up to $100 in loss / damage protection. GlobalPost Plus shipments include up to $200 in loss / damage protection.
All claims must be filed by the shipper, not the recipient.

Claims for damage can be submitted at any time. Claims for lost packages cannot be submitted until 30 days after the shipment date.

All claims must be submitted within 90 days after the shipment date.
Go to the GlobalPost Claim Form page.

Fill in the online form:

You will need a good contact email, the shipment tracking number and shipment date, and claim amount.

Do not include the shipping cost when filling in the Claim Amount field. If the claim is approved, the shipping cost will be added to your total payment.

For damage claims, upload an image of the damaged shipment.

Send the form when all fields have been completed.

If you submit a partially completed form, GlobalPost will not be able to process your claim and will notify you via email. Complete any missing information on your previously-submitted claim form and resubmit it, or complete a new claim.
Once a claim has been approved, the refund will be immediately credited to your shipping account. It can take up to 3 weeks for a claim to be processed. Please contact GlobalPost if you have not received a response to your claim within 3 weeks.
If you feel your claim was incorrectly denied, please submit a new claim with new or updated information.