What is Shipsurance, its terms and conditions, prices, and how to file an insurance claim.
Shipsurance is a discount shipping insurance provider available to ShipStation accounts based in the US that also use the Legacy version of ShipStation.
To add Shipsurance to a shipment, choose Shipsurance from the Insurance drop-down menu when you configure your shipment.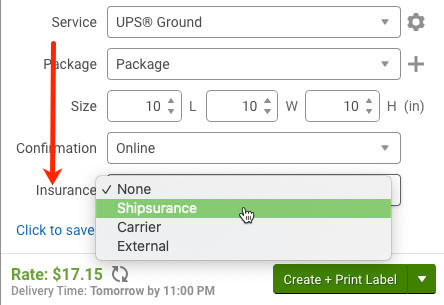 The same payment method used for your ShipStation subscription will also be used for the cost of purchasing Shipsurance.
Shipsurance requires a minimum purchase of $10 in funds to be added to your Shipsurance balance. For example, if Shipsurance fees are $2.40, and your Shipsurance balance is less, Shipsurance will require you to add the minimum $10.00 to your account balance. The remaining amount will be added to your Shipsurance balance in ShipStation for future shipments.
ShipStation automatically sets the Insure Amt to the order total. However, you can modify the Insure amount as needed.
If you ever need to file an insurance claim with Shipsurance, you can also start that process in ShipStation within 120 days of the ship date.
Review our Shipsurance partner page for more details about the insurance features available. Please refer to Shipsurance's Terms and Conditions for explanations of restrictions and special requirements.
See our Add Insurance to Shipments article for the available insurance types and how to apply insurance for multi-package shipments.
Existing Shipsurance Accounts
If you have an existing Shipsurance account that you'd like to connect to ShipStation, contact ShipStation Support and we can set your ShipStation account up to use your personal account instead.
If you connect a personal Shipsurance account, you cannot manage Shipsurance funds through ShipStation and all claims must be filed with Shipsurance directly.
Shipsurance works in conjunction with the default insurance coverage offered by your shipping carrier. This means Shipsurance will cover the declared value of the shipment beyond the carrier's default coverage. The default insurance coverage will vary by carrier. If you are unsure what the default coverage is for your selected carrier, review your carrier's help center or contact your carrier support team.
For example:
UPS covers $100 for a shipment by default. If you insure your shipment for $300, UPS would cover the first $100 of the insured value and Shipsurance would cover the remaining $200 of the shipment.

ShipStation will not prevent you from adding Shipsurance to a shipment and declaring the default amount or less for the service. Should this occur, your order details will show you added Shipsurance, but since the carrier is still responsible for the entire declared amount, no additional Shipsurance coverage will be added to the shipment, and you will not be charged any additional fees for Shipsurance.
Per Shipsurance terms and conditions, coverage rates depend on the carrier service you choose for your shipment and whether the shipment is domestic or international.
With Shipsurance, all funds are managed from within ShipStation. You can add funds to your Shipsurance balance at any time. The funds are deducted from the payment method you have set up in your ShipStation Subscription settings.
To add funds to your Shipsurance balance:
Click Add funds.

Enter in a minimum of $10 in the amount field and click Confirm.
To file a claim with Shipsurance:
Locate the desired shipment in the Shipments grid.

Scroll horizontally to the Insurance column.

Note

If you do not see the Insurance column, click the Columns button and enable the Insurance column.

Click the Shipsurance link and follow the onscreen instructions to submit your claim.
If your Shipsurance claim requires that you send your customer a physical form to sign, you may download the claim statement/affidavit to send to them.
If the Insurance field in ShipStation is blank, that means no insurance was purchased for the order when the label was created.
Once you have filed a Shipsurance claim, you can review the claim on the Shipsurance Claim Status page.
See the Claims section of Shipsurance 's Frequently Asked Questions page to learn more about how Shipsurance handles the claims process after you've filed your claim.
When you void a label that includes Shipsurance, you will immediately receive a refund to your Shipsurance balance. This refund will then be available to use right away.
If you have a Shipsurance balance and you cancel your ShipStation subscription, you will automatically receive your refund within 14 business days.
Your ShipStation invoice contains a list of your Shipsurance purchases that you can download from Settings > Account > Subscription. Click the link to view past invoices. Then download any invoice you need.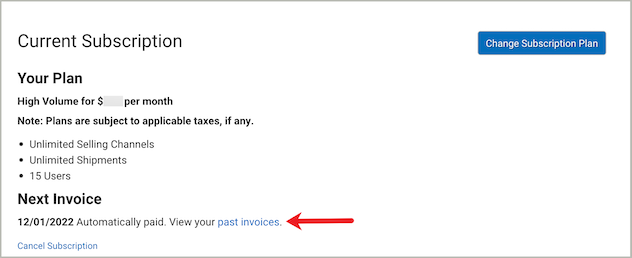 You can also run either the Shipments > Shipping Cost report or the Raw Data Exports > Shipped Orders report from your Insights tab. The insurance cost and provider fields are included in these reports.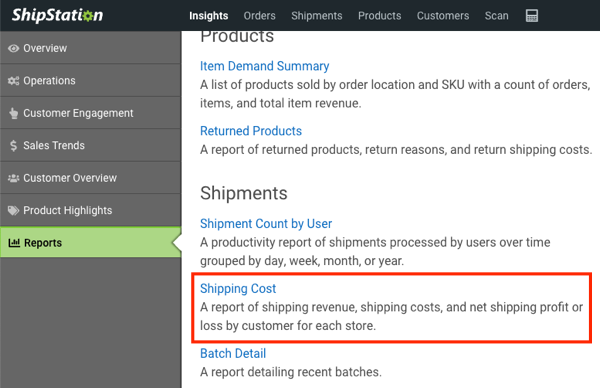 As of April 18, 2023, Shipsurance is only available for accounts still using ShipStation Legacy. If you are using the new version of ShipStation, you will have the option to Parcelguard insurance to your shipments instead.

Certain types of items, like currency or perishables, cannot be insured. There are also certain products, such as mobile phones, televisions, and laptop computers, that can only be insured under certain conditions.

See the Shipsurance Terms and Conditions for a full list of excluded items, special insurance conditions, and full details on destination countries that cannot be insured.

You can add Shipsurance to shipments with ship dates in the future, as long as you create the label within 48 hours of that ship date.

Shipsurance cannot currently be used for Landmark Global shipments. If you attempt to create a label for a Landmark shipment and have set the Insurance drop-down to Shipsurance, you will receive an error. To resolve the error, set the Insurance drop-down in ShipStation to None.