Details about using DHL Express from ShipStation: Requirements, requesting access, features, and more.
With DHL Express from ShipStation, merchants can access ShipStation's pre-negotiated international shipping rates and take advantage of discounts of up to 81% off DHL Express retail postage. DHL Express from ShipStation is an international shipping carrier included with your ShipStation account. With DHL Express from ShipStation you can immediately create DHL Express labels to ship almost anywhere in the world and start scheduling next-day pickups directly within the ShipStation interface.
Important! The content in this article is for merchants who do not have a direct account with DHL Express. If you have your own DHL Express account and need information on integrating that account to access your contracted DHL Express rates, please review our DHL Express help article.
DHL Express Service Updates
Updated May 12, 2023: DHL Express has added an emergency situation surcharge for deliveries. You will see this surcharge reflected in your rate estimate and Carrier Fee in ShipStation. For more information about the surcharge, see the DHL Express Emergency Situation Surcharge page.
Check here for other temporary service adjustments.
Activate ShipStation Carriers by adding your payment method.

You'll be prompted to enter your payment method the first time you attempt to create a label with any ShipStation Carrier, or you can add in advance in either your Carrier settings or Payments & Subscription settings.

Add funds to your ShipStation Balance.

All ShipStation Carrier labels are purchased using the funds in your ShipStation Balance. The first time you add your payment method, you'll be prompted to add funds so you can begin purchasing labels right away.
Label & Shipment Requirements:
DHL Express requires recipient first and last name, as well as a valid recipient email and phone number for each shipment. Be sure these are included on the order when you create a label using DHL Express from ShipStation.

Maximum weight and dimensions: The maximum actual weight for individual shipments when using DHL Express is 150 pounds (70 kilograms), and the maximum length is 120 centimeters.

Packages over these maximum values will not be accepted by DHL Express.
Activating ShipStation Carriers requires adding your label payment method and agreeing to the carriers' Terms of Service. Once activated, you'll have access to all of the carriers available for your account's country.
To activate ShipStation Carriers:
Click the Get Started button.

Follow the on-screen instructions to enter your billing details, agree to the terms and conditions, and finish the setup.

If you have your own Stamps.com account that you have not yet connected to ShipStation, you can select the option to use your own Stamps.com account during the setup process. In this case, you would not need to enter additional billing details.
Once completed, you can add funds to your ShipStation Balance and create labels with ShipStation Carriers.
Enable Auto-Funding For a Seamless Experience
We recommend enabling auto-funding to ensure your balance always has the funds for your label purchase needs.
ShipStation will sometimes add new carriers to the ShipStation Carriers roster! If you have already activated ShipStation Carriers and would like to start using the new carrier's services, you just need to update your ShipStation Carriers settings and agree to the new carrier's Terms of Service.
Go to Settings > Shipping > Carriers and click the Update button.
Agree to the new carrier's terms and you're done! You can immediately start creating labels with the new carrier.
DHL Express from ShipStation supports the following standard features:
DHL Express from ShipStation allows for the following additional features:
Feature

Description

Scheduled Pickups

You can arrange a one-time pickup or recurring regular pickups with DHL Express. See the Schedule Pickups section below.

Order DHL Express branded packaging

You can order DHL Express branded packaging when using DHL Express from ShipStation.

To order packaging, contact DHLservices@shipstation.com. Please include the following in your email:

The product(s) you wish to order

The quantity

The address to ship the materials to
ShipStation offers the ability to schedule one-time pickups directly in ShipStation. If you ship with DHL Express regularly, you may want to schedule recurring pickups instead.
One-time Pickups
Go to the Shipments tab in ShipStation.

Choose the Carrier Pickups option in the left-hand sidebar.

Fill in the requested fields, including a Pickup Contact with Location notes.

If this is your first time scheduling a pickup, you must create the Pickup Contact first. You must enter something into the Location Notes field, even if it is simply "No additional notes".

Click Schedule a Pickup.
If you are unable to successfully schedule your DHL Express pickup in the ShipStation pickup scheduler, you can also use the Schedule a Pickup form on the DHL Express website. Or, you can find a nearby drop-off location.
To use the DHL Express online scheduler:
Go to the DHL Express Schedule a Pickup form.

Select No to indicate that you already have a label.

Select I have a DHL Waybill Number.

Enter the waybill number (this is the same as the label's tracking number from ShipStation).

Click Next.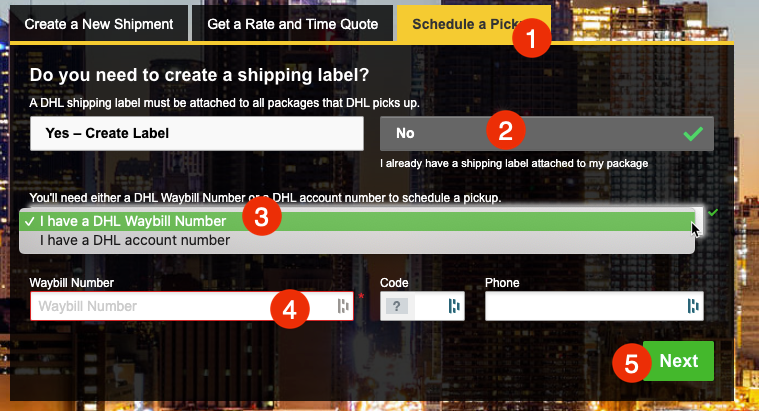 You'll then be prompted to fill in the pickup details to complete the process.
Schedule Recurring Pickups
To schedule recurring pickups, email DHLservices@shipstation.com and our team will work with DHL Express to arrange recurring pickups for you.
A DHL Express from ShipStation shipment can be returned to sender. To reroute or redirect an in-transit DHL Express Shipment, click this link: ShipStation's DHL Express Redirect Form.
Select the option to Reroute my DHL Express from ShipStation package and fill in the required information.
This is not a guaranteed service, so It is important to file this claim as soon as possible. DHL Express cannot intercept a delivered shipment.
Should one of your DHL Express packages get lost or damaged, DHL Express from ShipStation includes standard liability to reimburse you.
You must file claims within 30 days of the date that DHL Express accepted the shipment. Claims are subject to DHL Express's terms and conditions.
Download and fill in the PDF form from DHL Express.

Enter your shipment tracking number in the Waybill Number field.

In the Account Number field, either enter "I do not have one" or leave the input field blank.

Leave the "Claimant field blank.

Save and submit that PDF to DHLservices@shipstation.com.
Shipping to the Republic of Ireland: As of July 2, 2023, the inclusion of the correct Eircode (Postal Code) for shipments entering the Republic of Ireland (ROI) is mandatory on all DHL Express shipments. Learn more about and look up Eircodes on the Eircode website.

Dimensional weight may apply to some shipments. Be sure to include shipment dimensions when getting a rate or creating a label to avoid unexpected charges.

DHL Express from ShipStation requires both first name and last name for the recipient address on all shipments.

DHL Express from ShipStation includes the DHL Express Worldwide Package services and DHL Express Envelope services. Currently, other DHL Express options and services are not available.

DHL Express from ShipStation does not support 3rd-party billing. To use 3rd-party billing with DHL Express, you must connect your own DHL Express account and create labels using that account.

DHL Express from ShipStation does not support shipping dangerous or restricted goods.

Voiding labels:

If a label has not been used within 30 days, you can no longer void the label within ShipStation. You cannot get a refund or credit for unused labels if you do not void them.

When you void a DHL Express from ShipStation label, the cost of the label will be credited back to your ShipStation balance. Most funds are credited back the same day but can take up to 21 business days to process.

DHL is likely to return shipments sent to residential addresses in Russia back to the sender. This is because Russian customs authorities examine all dutiable shipments with extreme scrutiny and there is no guarantee the package will be sent to its destination after inspection. You may wish to use a different carrier for shipments bound for a residential address in Russia.

DHL will deliver shipments to commercial addresses without issue.

The customs form/commercial invoice that is currently generated from ShipStation does not include the freight (shipping cost) paid by the buyer. This is required by UK customs. Contact support to enable this feature.

Enable Freight applies to All Carriers

If you have the Enable Freight feature for your commercial invoices, it will be enabled for all carriers and all destination countries even if it is not required.
DHL Fee Adjustments
DHL reserves the right to charge adjustments for administrative and other costs. It is the shipper's responsibility to address all DHL shipment fees and subsequent adjustments.
To ensure your rates in ShipStation are accurate, be sure to always enter the true weight and dimensions of all shipments before creating the labels. See the DHL website for more details or contact DHL support.
Here are some common issues, potential causes, and troubleshooting tips.
Issue

How to Troubleshoot or Resolve

Error: The requested Special Service Codes AA is not available. Please make sure data entered is valid before proceeding or contact our customer service.

What it means: You have likely selected non-supported options for your DHL Express shipments. This error likely indicates that incorrect Other Shipping Options are being used.

What to do: See the Label Options section of the Available Shipping Options by Carrier help article to confirm which options are supported. Or, try removing the options one by one to see which option is causing the error. Then proceed with the shipment without selecting that option.

An error indicates DHL Express can't find the recipient address when attempting to create labels.

Typically these errors will be displayed in one of two ways:

Cannot determine destination service. Check recipient information and resubmit. If this problem reoccurs contact your technical service representative.

The destination country X location postal code Y or City Z is invalid. Please check the destination country location details.

Both of these errors indicate that the recipient address is not formatted properly for DHL Express shipments. Compare the address details using the DHL Compatibility Tool and correct the address where needed.

Error: Validation: Pickup location notes must be provided TransactionID=XXXXX

What it means: When scheduling a pickup within ShipStation, the Pickup Contact must have some content in the Location Notes. It can be something like "No Additional Notes".

What to do: Create a new Pickup Contact identical to the original but add something to the Location Notes.

Error: If provided, fullname must contain at least 2 alphabetic characters, followed by a space, followed by at least another 2 alphabetic characters. Exception with code 0x00650111; module 101, category 1, item 17

What it means: This is a USPS compliance error for an international shipment that indicates the required fields on your customs forms or your Ship From location are missing information or need to be formatted correctly.

What to do: Check the following:

The Ship From location contains a complete address.

The recipient on the order contains a first and last name or company name.

Remove any additional spaces that may be in the Ship From location or the name field of the Recipient on the order.