ShipStation can apply various actions to multiple orders and shipments in bulk.
To apply actions to order in bulk, select the orders in the Orders grid you wish to modify. Then select which action you'd like to apply by clicking either the Action button or selecting an action from the Bulk Update drop-down menu.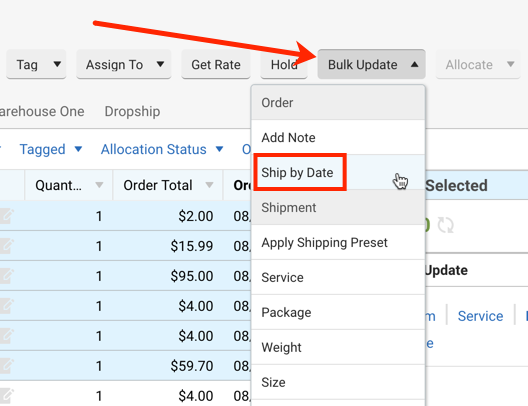 Once you select the desired action, follow the instructions on the screen to complete it. ShipStation will then apply the update to all selected orders.
From the Bulk Update drop-down menu, you can:
Set Ship by Date

Add a Note

Apply Shipping Preset

Set the Service

Change Shipping Account

Set the Package type

Set the order weight

Set the package size

Set the Ship From

Add Insurance

Set the confirmation type

Set the Do Not Notify Marketplace option

Select the Email Template

Select the Packing Slip Template

Set Other Shipping Options

Add Tax Identifier
With the Action buttons, you can do the following to orders in bulk:
Hold

Tag

Assign To

Print Packing Slips, Pick Lists, or Order Summaries

Mark orders as Shipped (under Other Actions)

Cancel Orders (under Other Actions)

Validate Addresses (under Other Actions)