Explanation of Stamps.com Global Advantage Program (GAP), which applies to international shipments using First Class or Priority services.
The Global Advantage Program (GAP) is an international shipping program through Stamps.com that provides an economical way to ship merchandise internationally.
ShipStation users have access to two types of GAP services:
Global Advantage Program Single Label

SmartSaver
When printing single USPS international labels for First Class or Priority services with your One Balance account, ShipStation automatically prints a GAP label.
GAP benefits include:
Up to 65% in savings over the retail USPS Package shipping cost

No need to print Customs Declaration forms

No need to change your workflow in ShipStation
How it Works
Similar to many international consolidators, you first send your packages via USPS to a domestic sorting facility. There, your international shipments are relabeled for their destination, receive their appropriate customs forms, and are then sent on to their final destination.
This means the label you print will be a domestic label addressed to the Postal Processing facility instead of the final destination.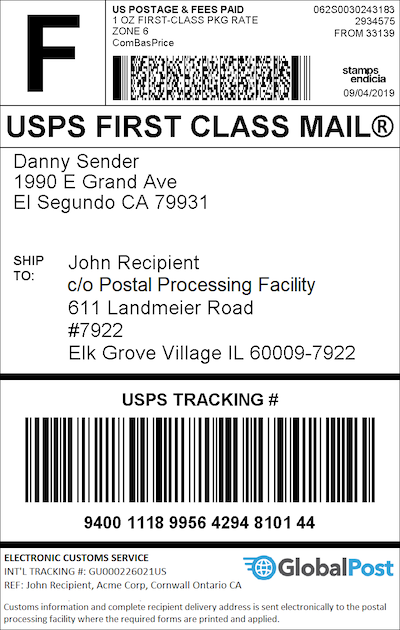 If you have a One Balance account, you are automatically enrolled in the Global Advantage Program.
For businesses that ship 10 or more international shipments per day, GlobalPost SmartSaver offers an additional 15% in savings on GAP labels!
With the SmartSaver service, you consolidate all your individual international parcels into a single, large container. You then send the large container to the sorting facility where the individual shipments will be sorted and sent on to their final destination.
By printing a GAP SmartSaver label with a scan code, the tracking for all included shipments will update when the large package gets scanned.
See the Global Advantage Program section in our Stamps.com article for instructions on how to print labels for a consolidated shipment.
Contact GlobalPost to apply for the SmartSaver service.
If you ship from the US to Canada using First Class Mail International, you will have the option to make it a Delivery Duties Paid, or DDP, shipment. When you select this option, you will be charged a flat fee that will pay duties or taxes in advance, rather than your recipient paying them upon delivery.
In ShipStation, there is a Duties/Taxes drop-down menu on the Configure Shipment Widget that will appear on any shipment with a destination in Canada. Select the option to PrePay Duties and Taxes if you wish to prepay this flat fee.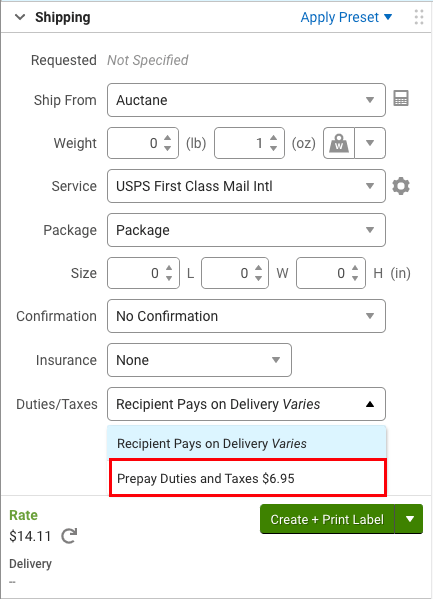 Learn more about this setting in our Bill International Duties to Payor help article.
Here is an example of a GAP label from the US to Canada: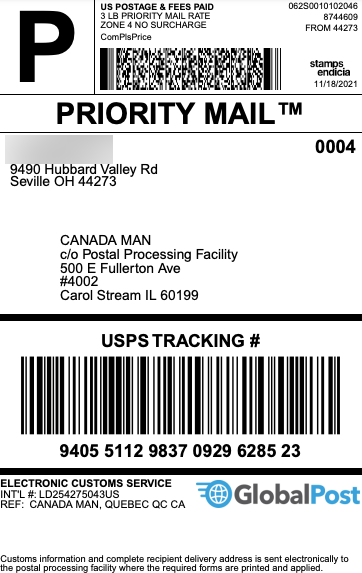 The international tracking number on the GAP label will track the package to the sorting facility and may track the package to the destination country as well, depending on the country.

If you receive an error in the Rate field in ShipStation or when you attempt to create a label: You may have a Stamps.com account with a negotiated service agreement.

If this is the case, your Stamps.com account may not be eligible for the Global Advantage Program. Please contact your Stamps.com representative for further information.

For help with claims, tracking or technical support on Global Advantage shipments, email GAPsupport@stamps.com.

If you need to file a GAP loss protection claim, download a copy and complete this form. Email the form as a saved attachment to info@goglobalpost.com.

For more information about the Global Advantage Program, please review the Stamps.com Global Advantage Program FAQ.