When shipping to another country, duties, and taxes may apply to your shipment. The shipment recipient is generally responsible for paying any duties or taxes. However, there may be instances where you, as the merchant, will want to cover the cost of duties and taxes.
When a merchant pays, it is called Delivered Duty Paid or DDP.
Within ShipStation, the setting you use for DDP is Bill Int'l Duties to Payor of Shipping Charges.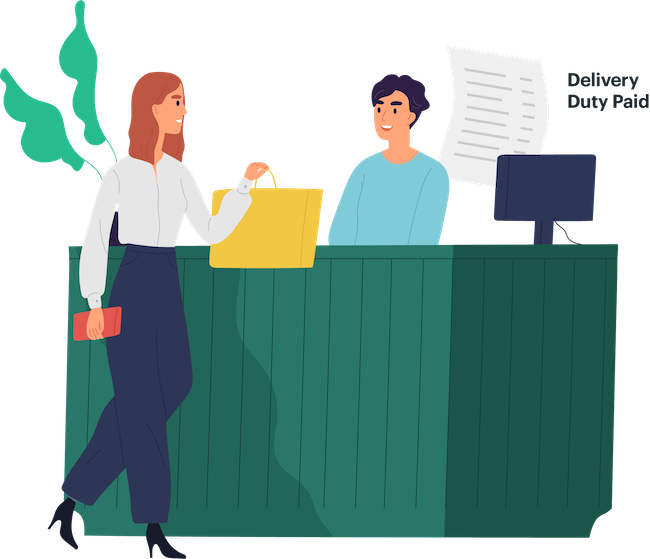 There are a few things to know about DDP:
The merchant is responsible for all the costs associated with shipping.

Not all carriers provide this option, but many do.

You should explicitly convey to your customers that you mark up your prices to cover duties and other fees.
DDP is convenient for your customers because it removes the burden of paying another fee before receiving their shipment. They just have to wait for their shipment to arrive. It is especially appealing if the merchant absorbs all the costs.
Usually, the advantage for the merchant can come from having a steady, reliable market in a certain place. This will reduce risk if you know you can reliably send shipments to the destination country.
In ShipStation, you can manually apply DDP to individual orders or create an automation rule that will automatically do it for you.
Shipping from the US to Canada
Shipments sent from the US to Canada using USPS international services are eligible for DDP, but you must specify DDP with the Prepay Duties and Taxes option in ShipStation.
See this workflow guide, Shipments from the US to Canada section, for more details.
Bill Int'l Duties to Payor of Shipping Charges is one of the actions available for automation rules. You can set up your criteria based on the destination country, carrier, customer, or other necessary limits.
This automation rule will enable the Bill Duties to Payor option for a shipment automatically when qualified orders import into ShipStation.
Shipments from the US to Canada sent via USPS First-Class Mail International, Priority Mail International, and Priority Mail Express International are eligible for DDP.
Prepaid Duties to Canada Limitations
You can only use the prepay duties on shipments valued under $500. If the shipment value is over $500, Canadian customs will determine the value of customs needed. This will prevent pre-payment.

Prepaid duties only support packages that weigh 4 lbs or less.
Use the Duties/Taxes drop-down menu in the Configure Shipment Widget and select the option to Prepay Duties and Taxes. You will be charged a flat fee for any cross-border duties or taxes that will apply to the shipment, depending on the shipping service:
First-Class Mail International fee: $7.95

Priority Mail International and Priority Mail Express International fees: $9.95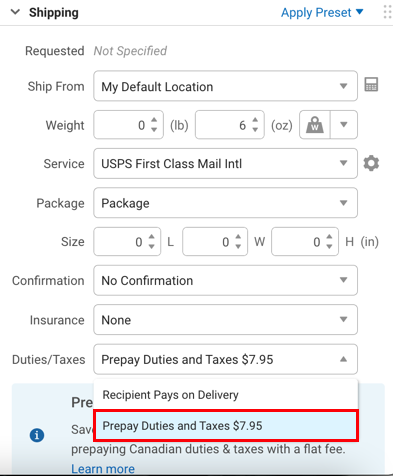 Some Priority Mail International Package Types are Not Eligible for DDP
Priority Mail International Medium Flat Rate Box and Large Flat Rate Box shipments are not eligible for DDP.
The option to bill duties to the payor is only available when shipping with certain carriers. The following carriers support DDP: