Highlights the new features and improvements available in ShipStation's new layout.
ShipStation's new layout includes many new features and improvements that you will not find in the ShipStation Legacy. We've made improvements to batches, filters, custom views, Quickship, and the split and combine orders workflow. We've also added some brand new features, including Scan to Verify and the ability to send rates to your store checkout!
ShipStation plans to keep improving this new layout as our users' needs change and grow. To take advantage of these new features and improvements, you must switch your account to the new layout.
Click the Try Now button in the top right of your ShipStation account screen to make the switch:

Nervous about making the switch? Don't be! The features you rely on for your daily work are still there and in the same place. But you may want to learn about some of the enhancements before making the switch so you don't miss out on some useful new functionality.
All Users must use the Same Layout
If your account has multiple users, they all should be using the same layout. When users within one account use different layouts, several key ShipStation features will not work correctly.
Click a section below to learn about one or all of the recent improvements and new features!
When using Scan to Print in the new layout, you now have the ability to configure the shipment in real time. In ShipStation Legacy, the shipment had to be configured prior to using the Scan to Print feature.
Additionally, Scan to Print in the new layout displays your order details so you can see the items on the order you are printing a label for.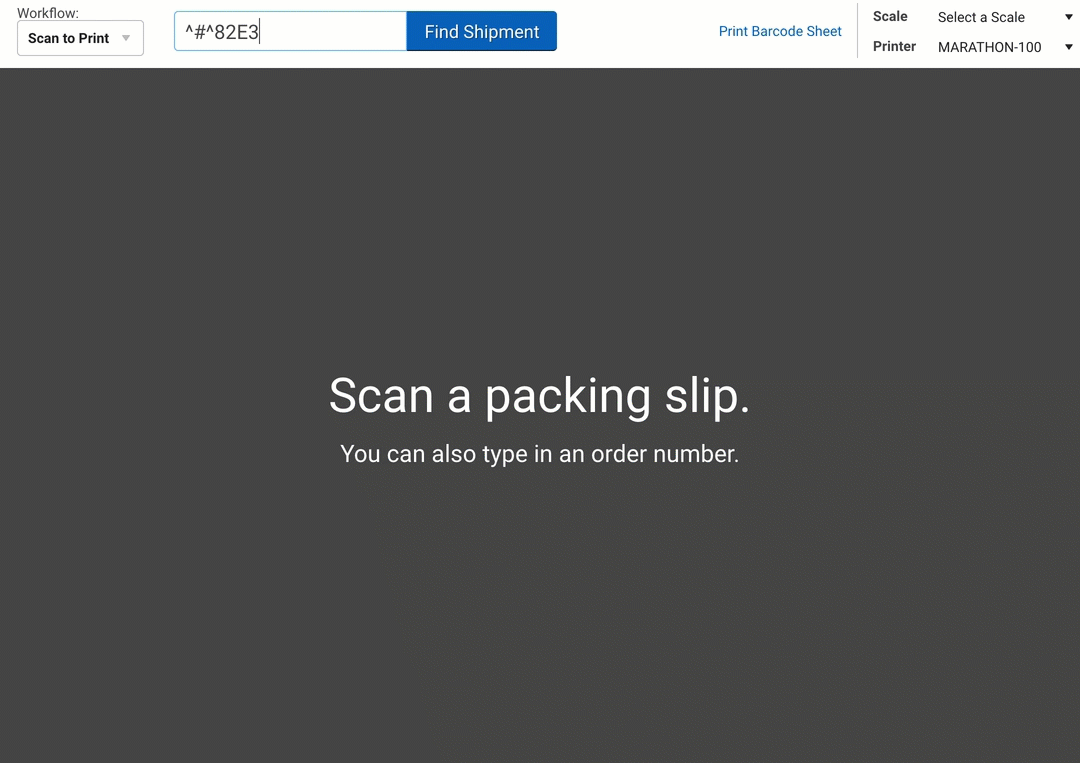 We've made several improvements to the batch feature with the new ShipStation layout.
Unlimited batches!

You are no longer limited to just 5 batches in your account.

Custom batch names!

You can now give your batches custom names, if you prefer.

View and manage open batches across all users in the account.

You are no longer limited to view-only permissions if you were not the user that created the batch.
Review our Create Labels in Batches help article for details on creating and working in batches in ShipStation's new layout.
In ShipStation's new layout, we've moved the saved views from the sidebar so they now live above your Orders Grid in tabs.

It's also easier to create these custom views when you apply filters and you are no longer limited to only 5 saved views. You can now have as many saved views as you like and they will be available to all users on your account.
Review the Filter Orders and Create Custom Order Views help articles for details on using these features in the new layout.
Splitting and combining orders has changed a bit from the process used in ShipStation Legacy. Now, when you split orders you split the items within a single order into multiple shipments within that order. When you combine, you are combining the items from one order into a shipment on another order.
This may seem like a subtle distinction, but is actually a significant change from the Legacy process. The purpose is to maintain the integrity of the order records in ShipStation so they continue to match the order records in your selling channels.
This new process also more accurately represents what our merchants are actually doing. You are either fulfilling items from a single order separately, or you are fulfilling items from separate orders together.
Here is an example of the Split Ship actions pop-up while splitting a shipment:

Here is an example of the Order Details for an order that has been split into multiple shipments: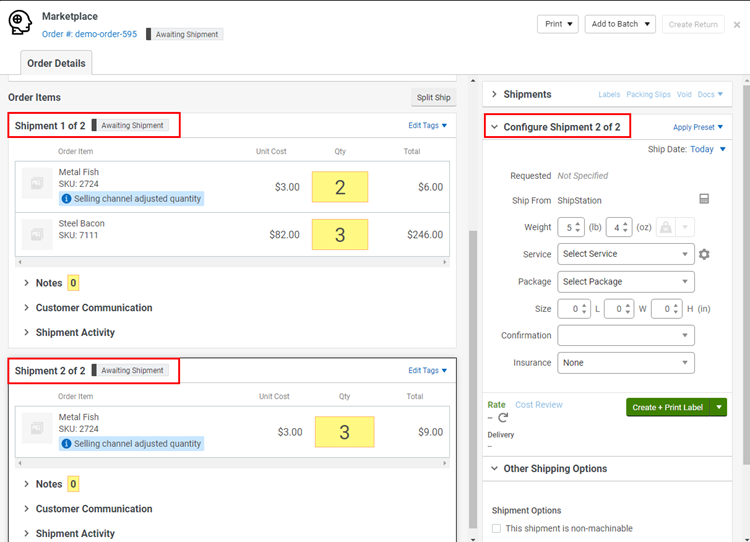 Here is an example of the Order Details for an order that has items combined from another order: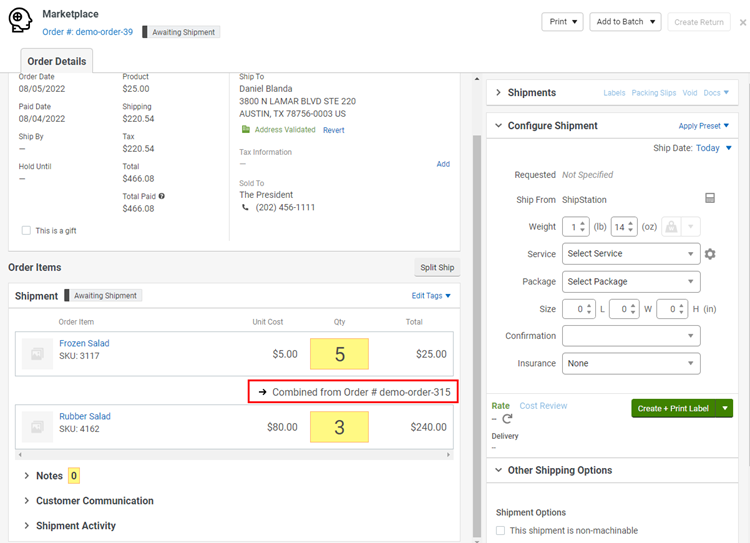 What you see in the Orders Grid, however, remains very similar to the experience you had in ShipStation Legacy:
Split shipments display as separate line items in the Orders Grid and retain their original order number: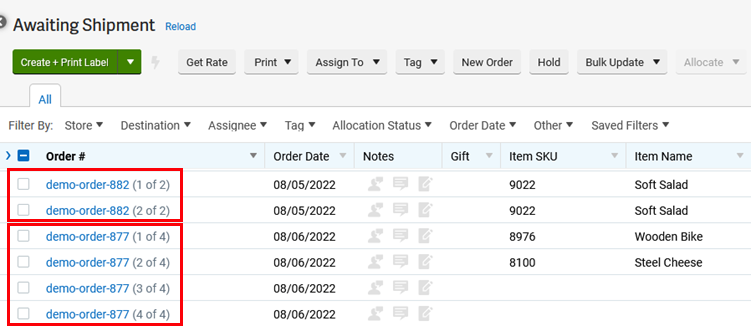 Orders that have combined shipments will also still show in the Orders grid, but will also show the item that has been combined as a part of the target order. This example shows the difference between an order that contains multiple items and an order that has an item combined from another order: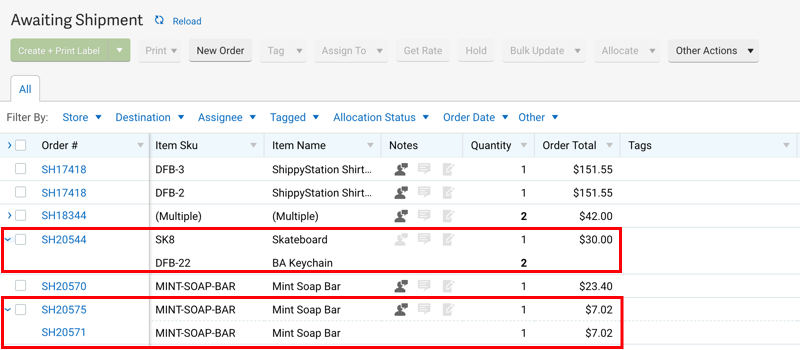 Please review both our Split Orders into Multiple Shipments and Combine Shipments help articles to learn about the updated split and combine processes.
The concept of Quickship in the new layout is the same as ShipStation Legacy. When in Quickship mode, ShipStation will skip many of the confirmation screens and alerts you have to manually dismiss when shipping without Quickship.
In ShipStation's new layout, however, you can customize which confirmation screens and alerts you wish to skip and which ones you want to keep.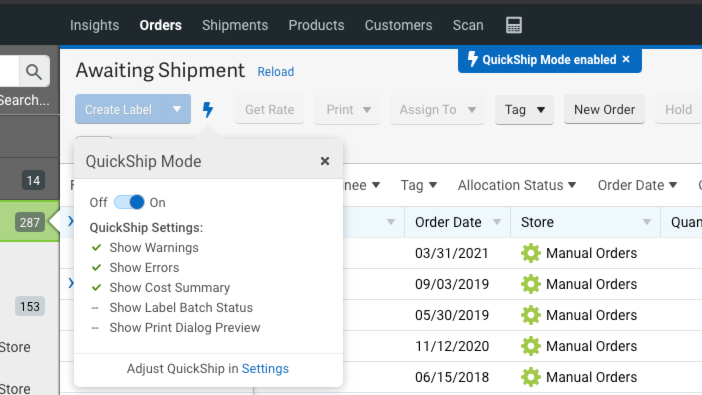 In the Quickship Workflow Settings, you tell ShipStation which of the following to show when Quickship is enabled: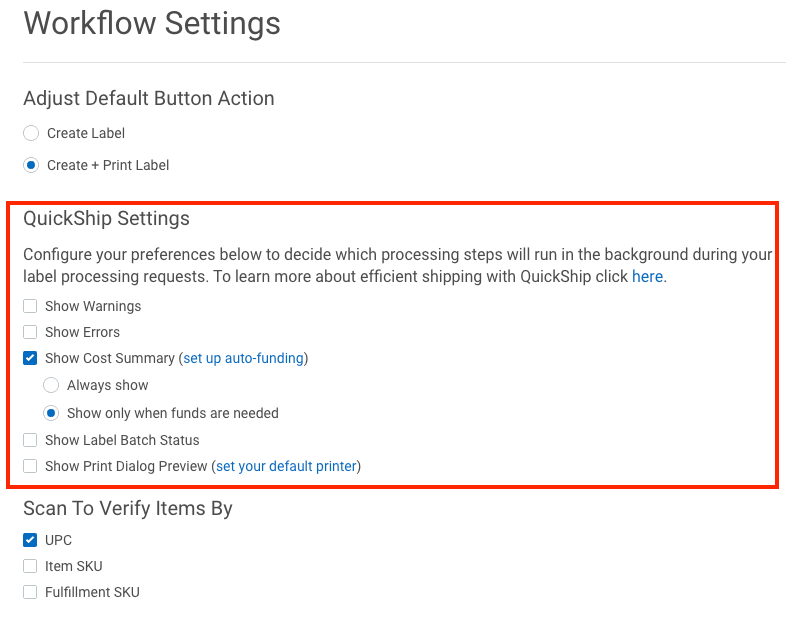 Review our Using Quickship help article for details on how to use Quickship in the new layout.
The Group By feature in ShipStation's new layout allows you to group your orders by certain order attributes (like number of line items, item name, and requested service), just like the Group By feature in the Legacy Layout.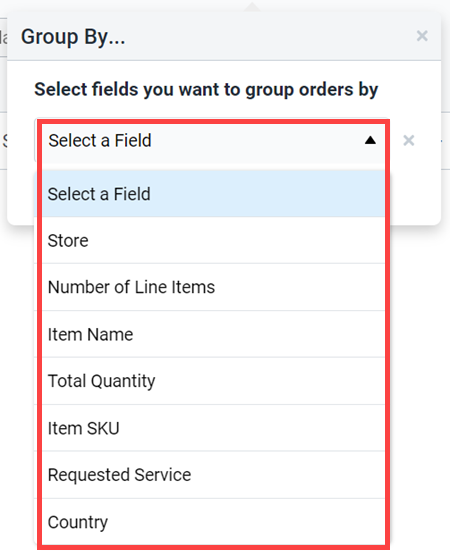 However, in the new layout you can now group by multiple attributes, instead of by just one at a time.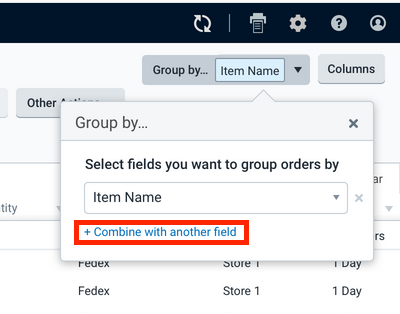 Once the orders in your Orders grid have been grouped by your selection, you can further sort and filter within the groups. You can also select all orders in a group for bulk updating or adding to batches.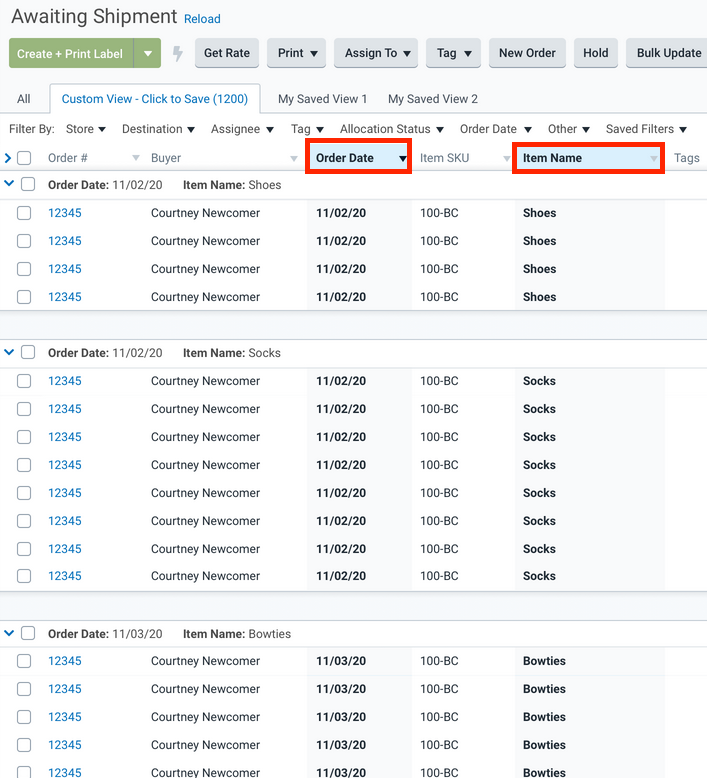 Review the Group By section of our View, Search, and Sort Orders help article for more details on using the Group By feature.
While the functionality of the Rate Calculator has not changed, the design of it has!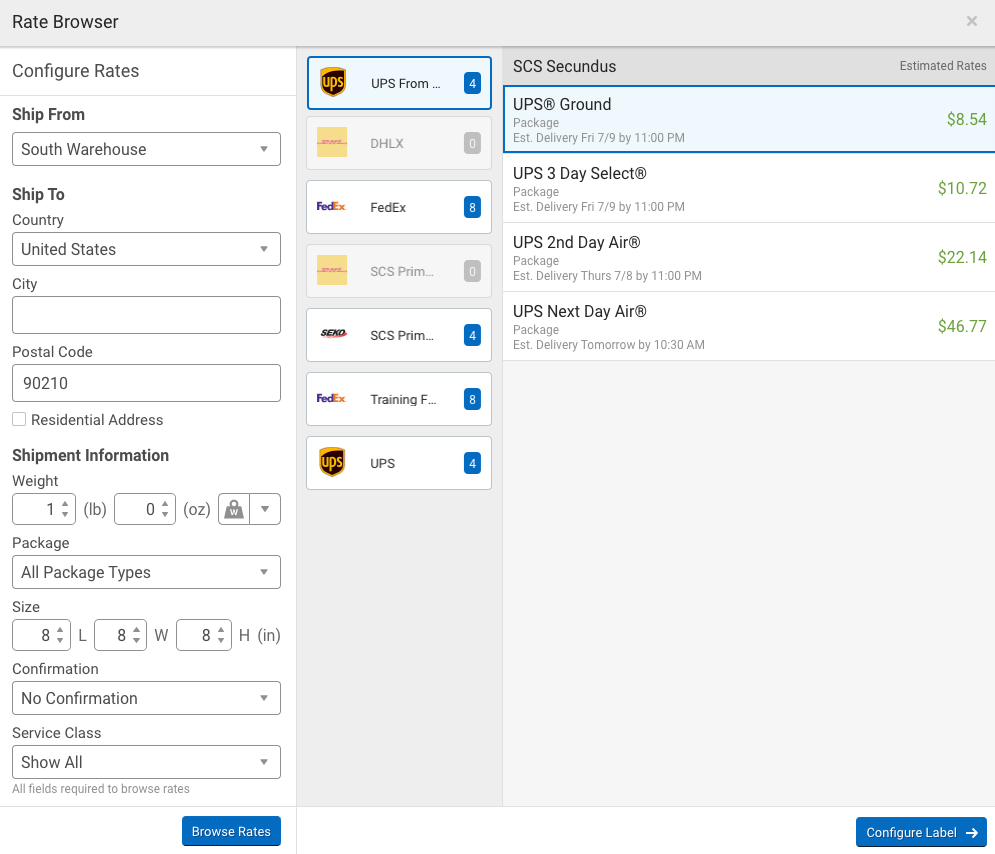 You can still browse rates from your connected carriers, create a label without an order, and create a return label without an order. Review the Calculate Rates help article for more details on using the ShipStation Rate Calculator.
The Scan to Verify feature allows you to scan a SKU or UPC barcode as you pack your shipments to ensure the shipment is accurate and complete before sending it.
Combine Scan to Verify with Scan to Print to create a fast scan and print workflow! Verify the items as you pack, weigh the package, and print the label all with the barcode scanner.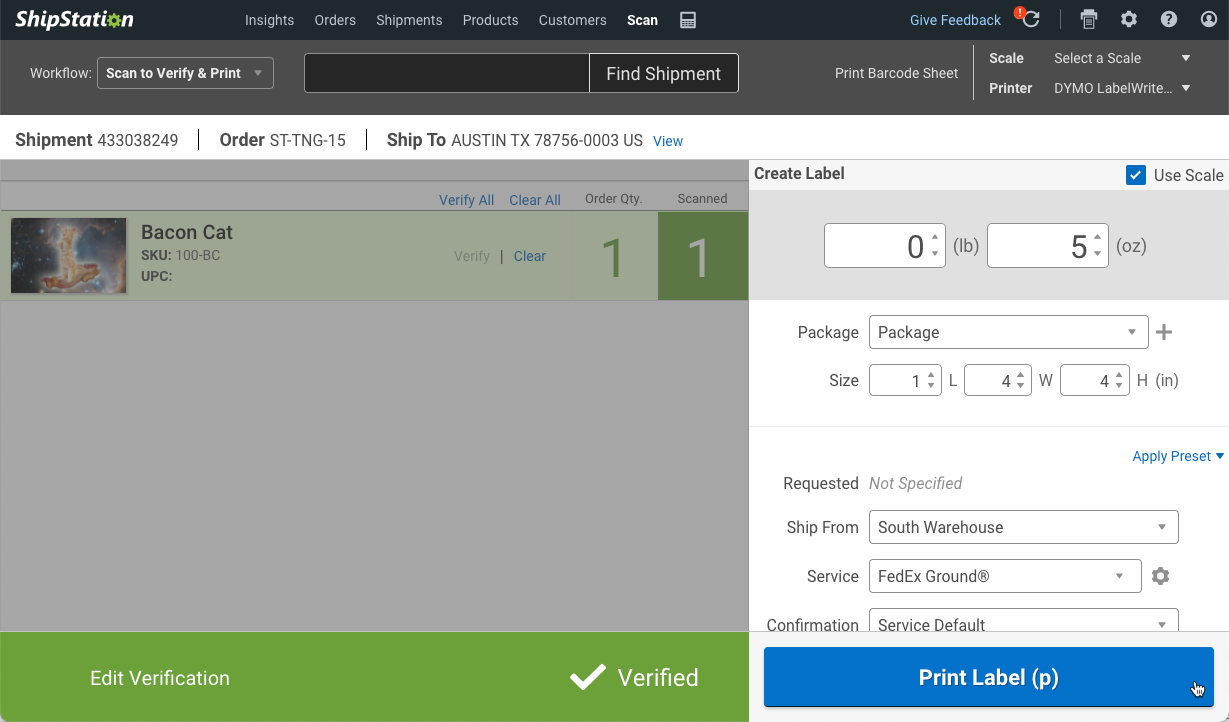 The Scan to Verify feature has several requirements and options. Review our Verify & Print Shipments with Barcode Scan help article for details and step by step instructions on using the Scan to Verify feature.
One of our most requested new features is the ability to send rates from ShipStation so your customers can view and select them during their checkout process. This feature is called In-Cart Delivery Options and is now available for US-based ShipStation accounts connected to Shopify, Magento, BigCommerce, and Wix stores (with more to come)!
In-Cart Delivery Options allows you to control which rates display to your customers while also allowing them to select their preferred service and carrier.
How you configure your delivery options in ShipStation is the same no matter which selling channel you use.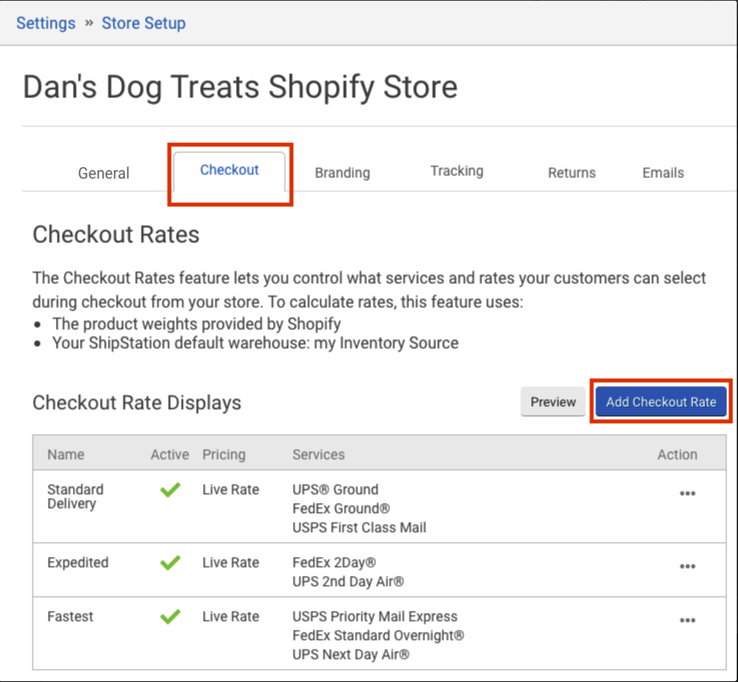 However, how you enable your store for In-Cart Delivery Options is unique to each store. We recommend first reviewing our Send Rates to Store Checkout help article to understand how the feature works. You can then review the help article specific to your store to learn how to enable the feature to work with your store. Click the link below for the help article you wish to view:
The new layout now allows you to expand orders with multiple items right in the grid, so you can view all line items in an order without opening the Order Details view.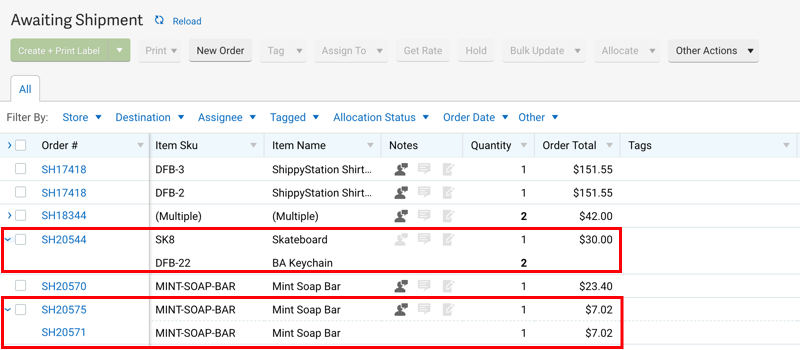 When closed, the Item Sku and Item Name column will display (Multiple), just as before. When expanded, the Item Sku and Item Name columns will display the SKU and name of each item in the order on individual lines.
If any of the items were combined from another order, the original order number will also appear in the Order # column for each line item you combined. This way you always know which order the item originally belonged to.
ShipStation now displays if you have printed a packing slip, created a label, or printed a label for a shipment.
There are two places you can view the this information:
The Shipments Grid. Make sure you have enabled the Packing Slip Printed, Label Created, and Label Printed columns in the Columns pop-up. You can also sort your grid by these columns.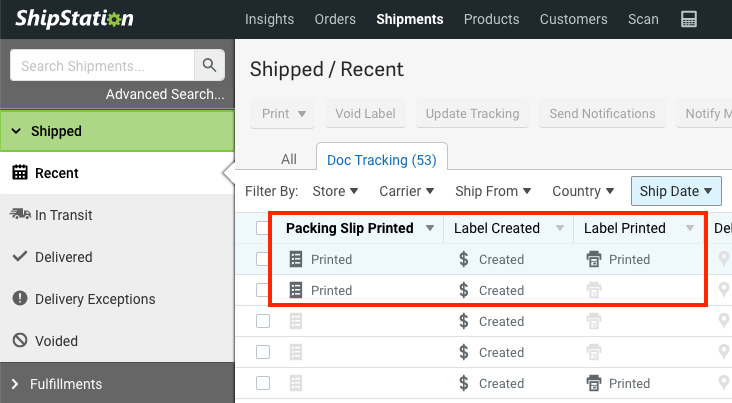 The Shipment Details screen. Double-click the shipment in the Shipments Grid or click the Shipment in the Order Details to open the Shipment Details.

If you have not yet created a shipment, there will be shipment record in the Shipments Grid or Order Details screen.
For more details, review the Smart Document Tracking section of our Shipment Records & Details help article.
Requires Printing with ShipStation Connect
ShipStation can only display the printed status of packing slips and labels if you print or download them using ShipStation Connect. If you use the browser print option, ShipStation cannot log the print action and will not update the status to printed.
You can now pin up to two columns in both your Orders and Shipments grid so those columns will stay stationary as you scroll horizontally to view all of your order and shipment data. The pinned columns remain visible on the left side of your grid as you scroll.
To pin a column, click the Pin Column option in the Column pop-up screen.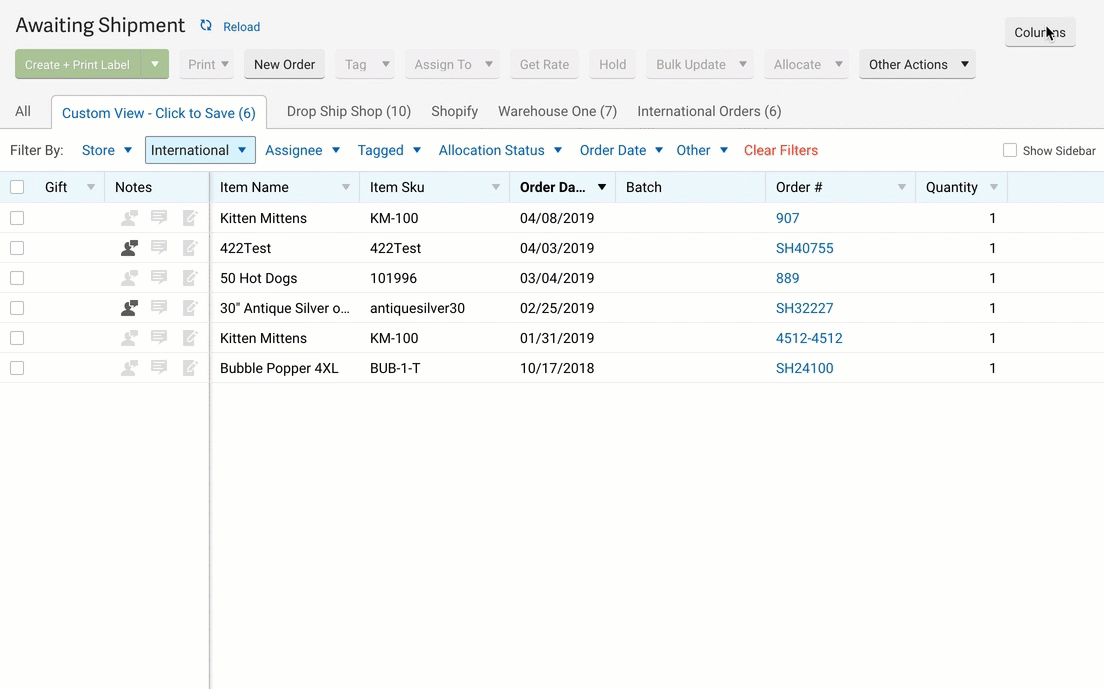 If you have selected two columns and would like to pin a different column, you only need to choose to pin the 3rd column and ShipStation will automatically unpin the most recently pinned column for you.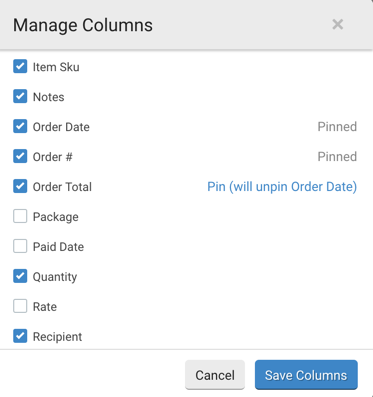 ShipStation now provides an option to create another shipment on orders that have already been shipped. This process will create another label as well as another shipment record for the order, but this shipment record will not contain any items or item details.
The purpose of the Create Another Shipment option is so you have a accurate view of how many shipments were sent for a single order. You don't have to create a new manual order or restore an already shipped order to create a new label any longer.
The Create Another Shipment option works best for exchanges or replacing lost shipments. You may also want to use this option if your carriers does not support multi-package shipments and the order is too large or too fragile to fit into a single box.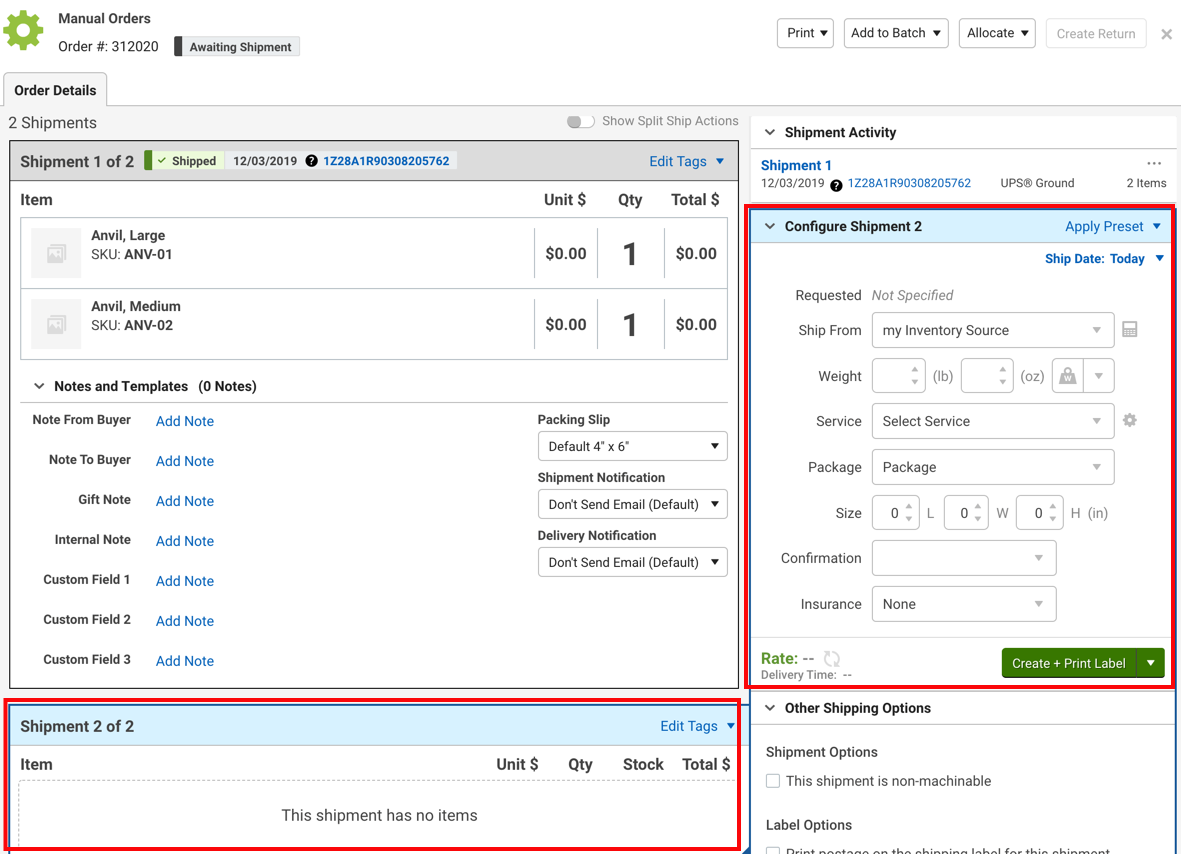 Review the Create Another Shipment section of the Create a Single Label help article for more details about this feature.